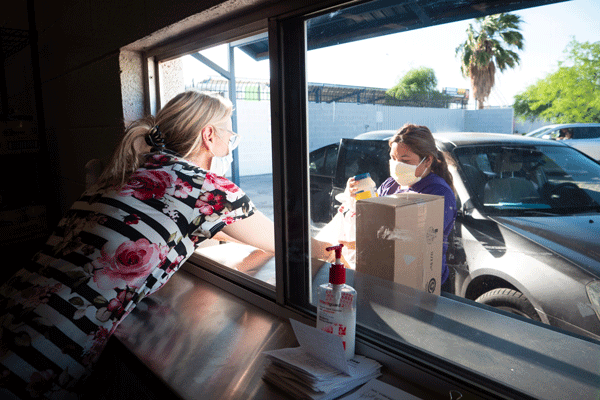 Same mission. Done differently.
An overview of SVdP's response to COVID-19 from the virus' earliest days in Arizona through 2020
It felt surreal how quickly COVID-19 (the novel coronavirus) went from a faraway threat to a tangible risk at St. Vincent de Paul. The pandemic would change everything, but one thing remained certain — commitment to continuing critical services to the Valley's most vulnerable and those who would find themselves in need like never before.


A sudden and necessary shift
March 16 marked the official pivot of SVdP's in-person service model to one that followed social distancing and COVID-19 health safety guidelines set by local and federal governments.
Just days prior, volunteers arrived for kitchen meal prep, guests filled every chair of the Resource Center for people experiencing homelessness, hundreds ate breakfast together around tables at the Phoenix Dining Room and patients checked in for appointments at SVdP's Virginia G. Piper Medical & Dental Clinic.
But within 48 hours all of that changed as public health officials confirmed community spread in Maricopa County. SVdP leadership took quick action and an extremely nimble staff implemented all-new pandemic procedures.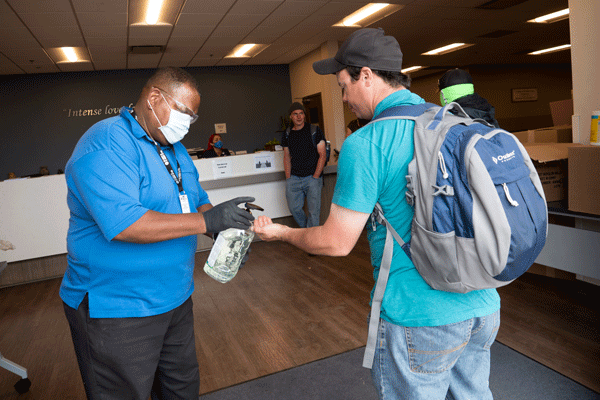 "It's a challenge because our entire model is built upon being close to people," CEO Steve Zabilski told the Arizona Republic for a column that week. "We bring in hundreds of volunteers every day…we do just the opposite of what is being asked — we do social embracing — but we had to go from social embracing to social distancing in a matter of hours."
On-site staff was greatly limited, with some staff members shifting to remote work where possible. All volunteers were asked to remain home for their safety and to help limit possible exposure or spread. Daily sanitization, frequent hand washing and maintaining social distance became policy.
Services looked drastically different:
SVdP's five dining rooms shifted to grab-and-go meals
The Medical Clinic practiced telehealth
The Dental Clinic took emergency cases only and had staff redeployed to the kitchen
Ozanam Manor (the transitional shelter) isolated as much as possible
The Resource Center offered to-go hygiene kits, food and water for people experiencing homelessness
Rent and utility assistance happened remotely over the phone
Home visits took place outside with food boxes delivered to doorsteps
The Dream Center provided take-home activity kits for children
The Urban Farm harvested and packed fresh produce to accompany to-go meals
Every day saw new challenges and additional shifting as the community at large learned more about the virus. By March 30, SVdP required masks and shortly thereafter had mandatory temperature checks before entering any location.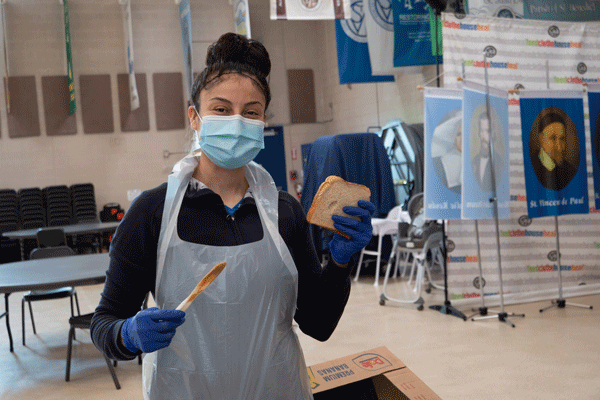 Finding silver linings all around
The daily unpredictability felt taxing, but along with the challenges came creativity and resilience.
The Help from Home program was born, offering volunteers projects they could complete for SVdP from the comfort and safety of home. (Meet virtual volunteers Matthew Rouhani and the NCL Sonoran Centennial Chapter.)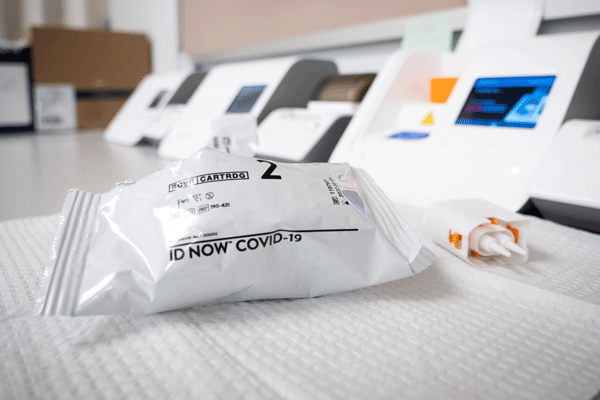 An outpouring of love, donations and unique opportunities came from the community resulting in the launch of 19 restaurant partnerships and the joining of forces with CVS Health to offer free rapid COVID-19 testing in SVdP's Medical Clinic. The summer testing clinic lasted from June through September and completed 5,600 tests. It's closure followed a decline in demand after Arizona's first spike in cases had passed.
The #AllinThisTogether movement at SVdP took off and challenged people to #MakeKindnessViral.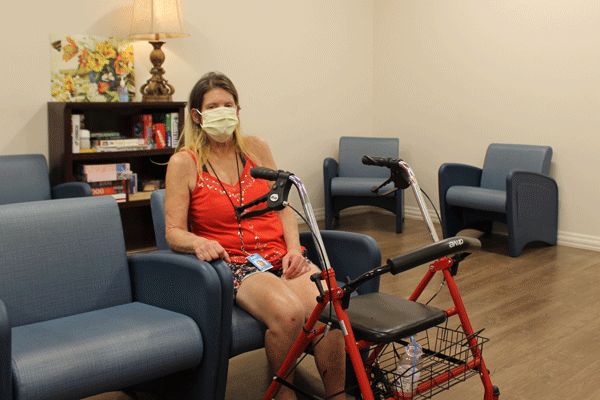 Stories of donated stimulus checks circulated. Notes of positivity poured in for shelter residents, who remained mostly isolated. Homemade masks in all patterns and colors arrived in the mail.
"In the midst of chaos and fear, we came together from afar to offer up the best of ourselves — the kindest, most compassionate parts — that we all needed in the face of this crisis."

– Associate CEO Shannon Clancy

A daily reality and the flood to come
By summer, SVdP settled into a "new normal" with social distancing procedures becoming routine. Response became less about addressing the on-going virus and more about tackling challenges — like a summer of record-breaking heat — atop the daily COVID-19 lifestyle.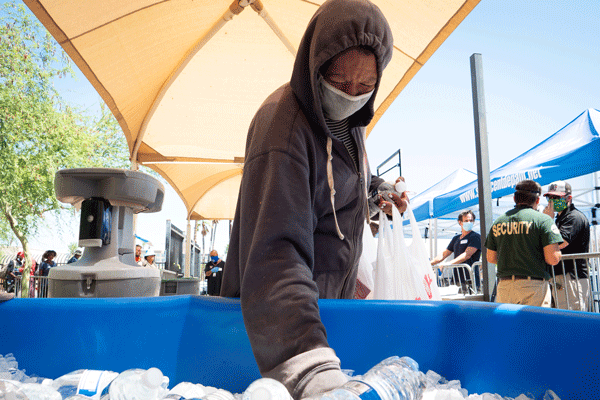 Then, the COVID-19 response took a new form as thousands of families, who lost jobs in the pandemic, suddenly found themselves unable to pay bills and at risk of eviction. Hundreds of calls poured into SVdP's rent and utility assistance line, almost all facing months without an income and a pile of unpaid bills.
An extended state and federal eviction moratorium, along with generous funding from both the community and government, is helping keep families in their homes… at least until the end of 2020.
But as the pandemic wears on and many jobs remain on hold or lost all together, more and more families find themselves caught in the economic fallout and slipping into crushing debt.
"We foresee a very challenging situation ahead," Shannon said. "One where we don't have a sufficient safety net even with recent extensions and funding to help all the families already turning to us for assistance."
Here is where SVdP finds itself in its COVID-19 response, caught in the eye of the storm yet still moving forward, eyes fixed ahead. Like it did in the spring, SVdP will commit again to supporting and embracing those who seek help and hope.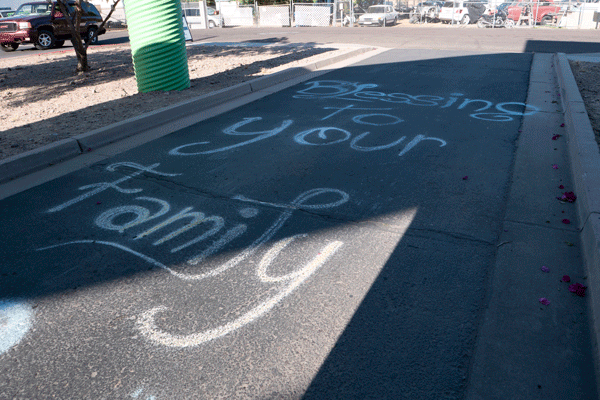 This article originally appeared in the winter 2020 issue of Vincentian Connection.

Next week: Read more about bill assistance during COVID-19 and meet a family SVdP helped remain in their home.