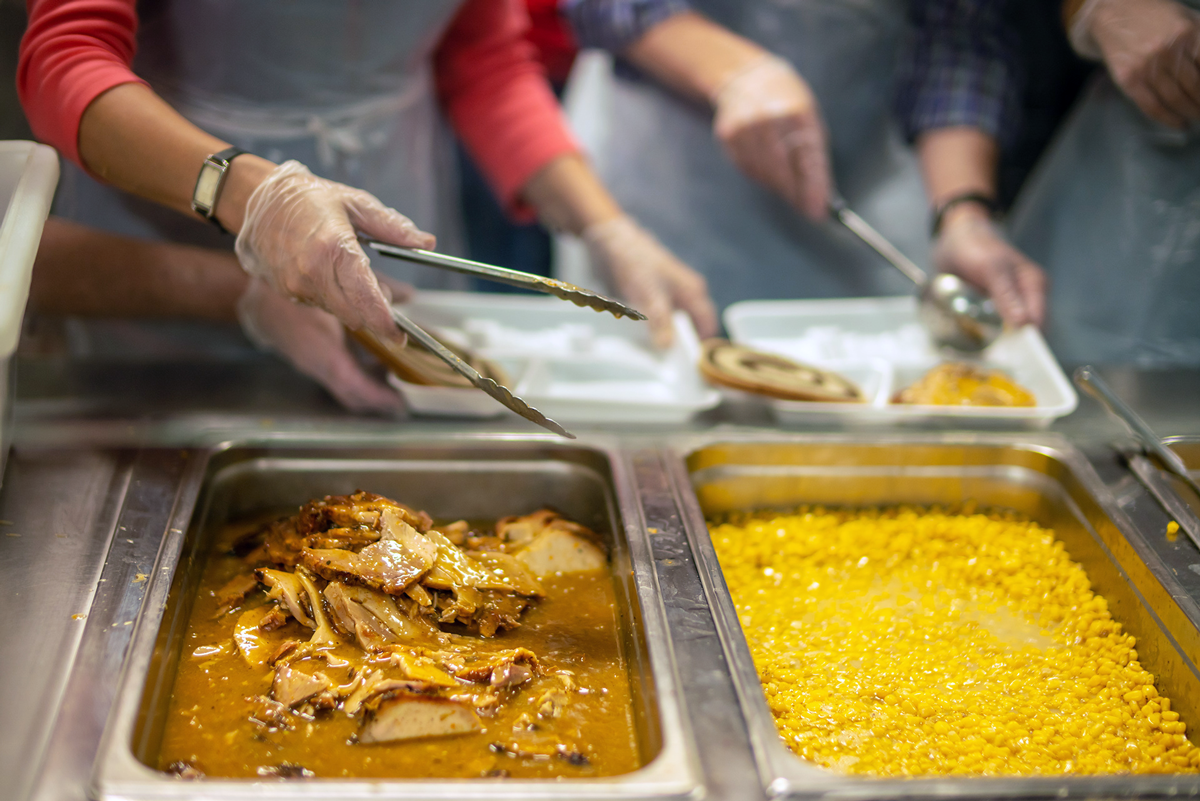 Serving Thanksgiving meals across the Valley
SVdP will serve 4,500 meals Thanksgiving Day through new 'Hybrid Dining Model'
Everyone deserves a hot meal for Thanksgiving and the Society of St. Vincent de Paul (SVdP) makes that happen with 4,500 meals for people experiencing homelessness and low-income families who rely on the nonprofit's five charity dining rooms across the Valley.
Thanksgiving Day meals will be served through SVdP's "hybrid dining" model, which launched earlier this year at select dining rooms and offers guests a choice of socially distanced indoor dining or to-go meals.
"This Thanksgiving season, we couldn't be more thankful to be able to safely welcome some of our guests back inside for a traditional Thanksgiving meal," said Food Services Director Danielle McMahon said. "But we also know how many more people we were able to reach with to-go meals, so we want to be sure we're still getting those hot, nutritious meals out into the community every way we can."
At each dining room, guests will enjoy roasted turkey with turkey gravy, mashed potatoes, green bean almondine, corn bread stuffing, rolls, cranberry sauce and pumpkin pie. Special this year, Salad & Go is providing Brussel Sprouts Salads to accompany SVdP Thanksgiving meals.
"We're so excited to offer this fresh and healthy option alongside our savory meal," Danielle added. "Salad & Go has been a dedicated and supportive partner throughout the pandemic, so we can't thank them enough for continuing to help us care for the most vulnerable in our community.
THANKSGIVING DAY MEAL SERVICE AT ST. VINCENT DE PAUL
Mesa Dining Room Thanksgiving Meal (hybrid dining option)
Time: 9:30 a.m. - 11:30 a.m.
Address: 67 W. Broadway Road, Mesa

El Mirage Dining Room Thanksgiving Meal (to-go only)
Time: 10 a.m. - 11:30 a.m.
Address: 14016 N. Verbana Street, El Mirage

Phoenix Dining Room Thanksgiving Meal (hybrid dining option)
Breakfast 7 a.m. - 8 a.m.
Lunch 11 a.m. - 12:45 p.m.
Address: 1075 W. Jackson Street, Phoenix

Family Thanksgiving Meal (dine-in only)
Time: 4 p.m. - 6 p.m.
Address: 420 W. Watkins Road, Phoenix

Sunnyslope Dining Room Thanksgiving Meal (hybrid dining option)
Lunch 11:30 a.m. - 12:30 p.m.
Dinner 4:30 p.m. -­ 5:30 p.m.
Address: 9227 N. 10th Avenue, Phoenix
SVdP provided 2.8 million meals last year through its five charity dining rooms and more than 143,000 food boxes to individuals and families in need through its 80+ neighborhood food pantries.
Volunteer with us this holiday season
Thanksgiving and Christmas are often booked months in advance, but we need help all the other days of the season too!