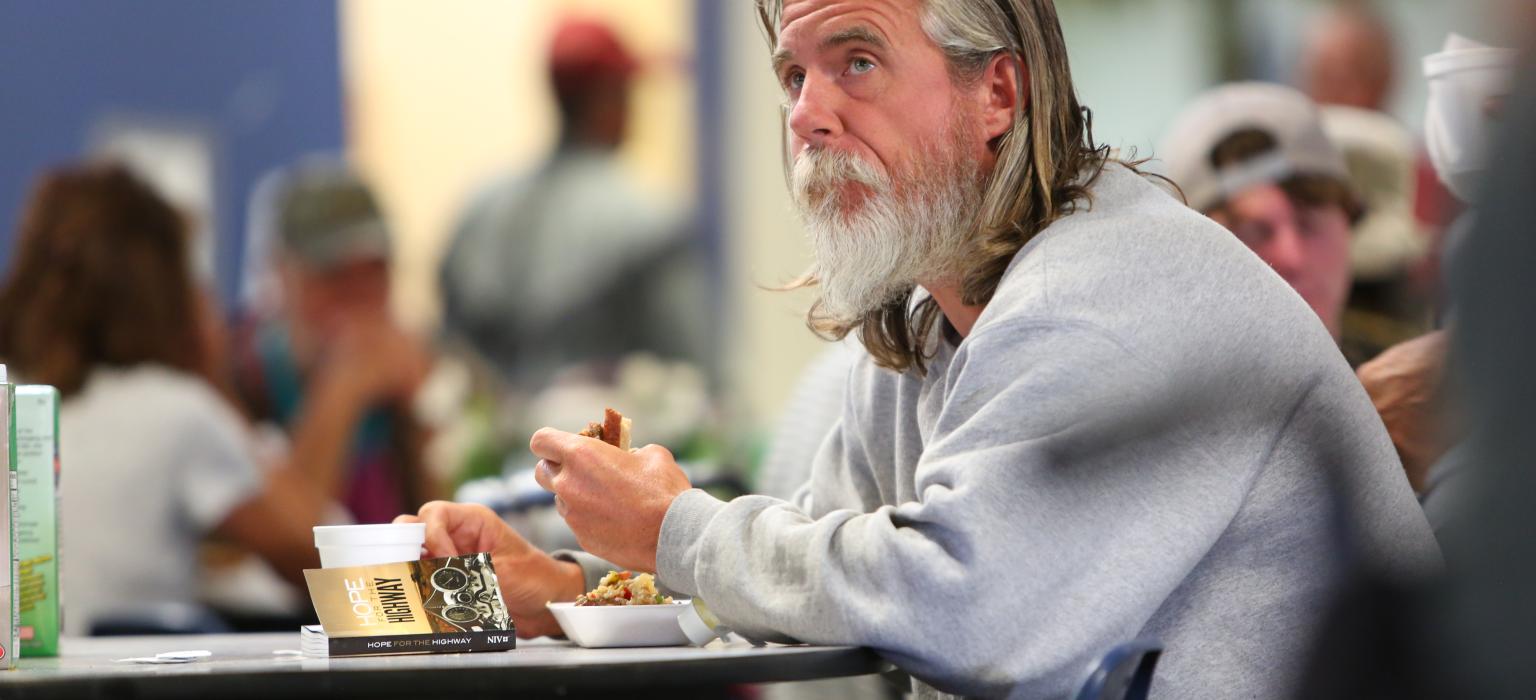 With one of the largest industrial kitchens in the Southwest and five charitable dining rooms, St. Vincent de Paul is able to serve millions of meals to hungry families and individuals each year.
The Society of Full Bellies and Hearts
Daily hunger and poor nutrition take an emotional and stressful toll on people. That's why our core programming includes serving nutritious, prepared meals at five dining rooms across metropolitan Phoenix and at more than two dozen nonprofit partners who lack kitchen facilities of their own. Together, we serve community members who are experiencing homelessness or whose income levels are below the poverty level. While our dining rooms are the sole source of nourishment for people experiencing homelessness, they allow sheltered families to stretch their budgets to help with housing stability.
When someone visits one of our dining rooms, it's rarely just about eating. In addition to hot, nutritious meals, our dining rooms are points of connection to other services and programs. We partner with community agencies and our own case managers to provide health screenings, mental health counseling, shelter, clothing, workforce readiness and other vital services to help people get back on their feet.
Our specialty dining room at the NextPhase Family Dining Room also includes tutoring and educational enrichment for school-aged children. While hardworking parents sit down to a restaurant-style meal at the end of a long day, children get help with homework and reading while taking part in STEAM and other fun activities, events and field trips at the Dream Center.
By the numbers
hot meals served last year
daily meals served in 2022
SVdP Dining Rooms in the Valley
community partner agencies served
Services and Resources
Breakfast, lunch and dinner 7 days a week.

Meals are supplemented by fresh harvests from our 3 Urban Farms, which are co-located with our Family, Sunnyslope and Phoenix Dining Rooms.

Meals are made and served by amazing volunteers.
Our dining rooms serve more than just a hot meal. They present an opportunity for us to work with individuals to address some of their needs and issues. Here are just a handful of services offered through our Dining Rooms.
Social work and case management

Companion pet services and supplies

Mental health and substance abuse support

Job readiness and internships

Showers and clothing

Education and tutoring

Mobile healthcare

Identification

Legal aid

Heat relief
Since SVdP soup kitchens can't be everywhere, we have a robust network of partners with whom we share our Feed mission. We prepared 1.9 million meals for these partners to serve to food-insecure community members last year:
Abel's House

Apex Housing

Beyond the Hurt

Blessed International

Carillo produce

Casa Grande/ Seeds of Hope

CASS

Church of God

Destiny of Life

Diana's Fresh Market

Faith Builders

Faith Missionary Baptist Church

Feed My Children/Table of Grace

Fire & Water

Fresh & Free

International Rescue Committee

Maricopa County Sheriff

Octagon Group

Partners in Recovery

Phoenix Church

Reborn Assistance

Recovery Innovations

Salvation Army

Sojourner Center

Stand And Recover STAR

Table of Grace Black Canyon

US Vets/Bethesda Community

Whole Life

Wings of Peace/Colobian Hall
There is no "off season" for our neighbors in need.
Your monthly gift ensures that nobody who comes to us for help will be turned away.
THE SOCIETY STARTS WITH YOU
It takes a Society of One Million committed people like you to serve everyone who needs help.
Volunteer Opportunities
At SVdP, 95% of our workforce are volunteers-like YOU. We believe that we can accomplish more when we all do it together. Thank you for sharing your skills, time, and heart with us. Thank you for being part of the family.