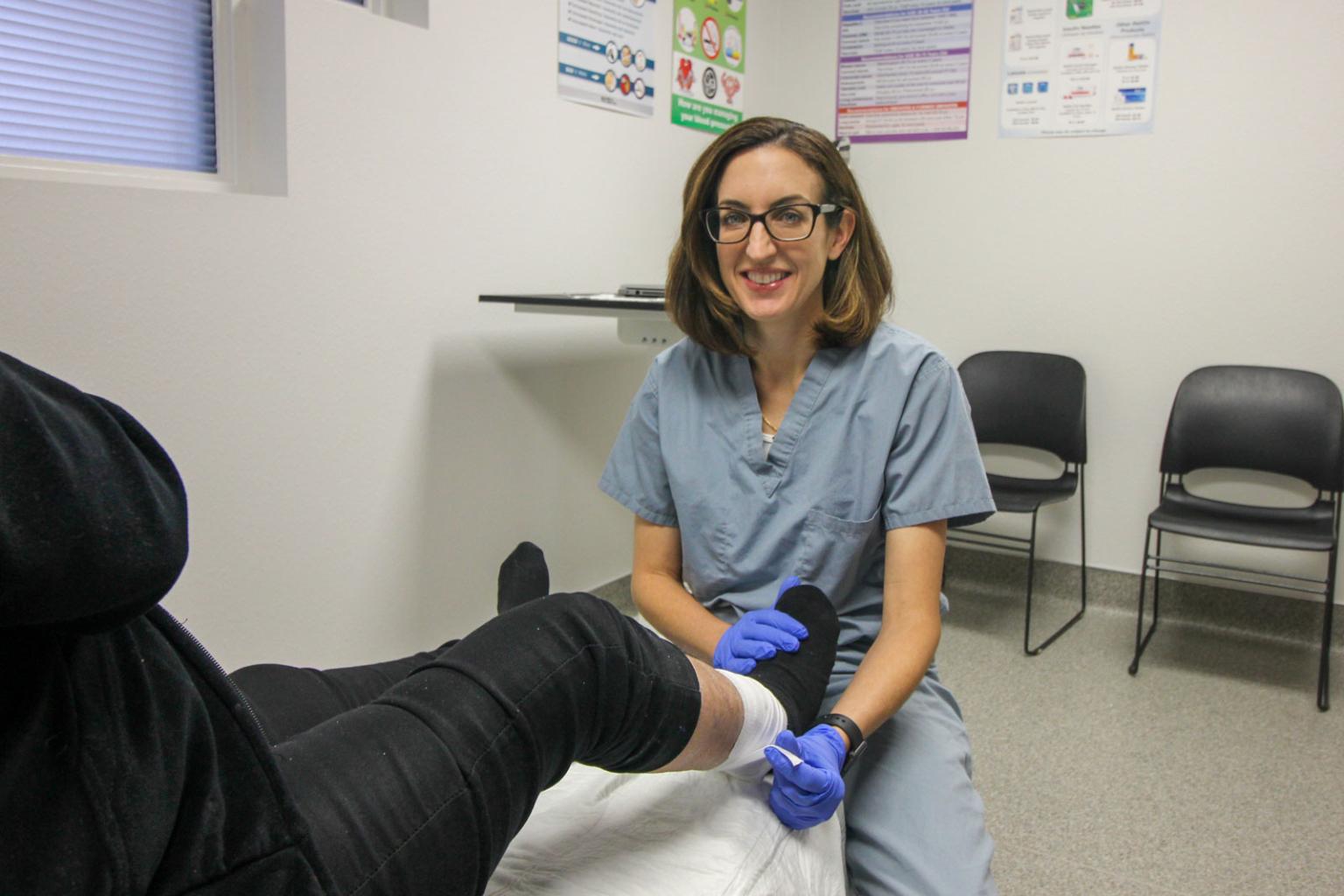 We are Phoenix area's only free clinic to offer wound care
St. Vincent de Paul's Erin Tharalson transformed the Virginia G. Piper Medical & Dental Clinic's approach to the oft-overlooked specialty care for the uninsured
Wound Care Director Erin Tharalson says the public would be shocked by the number of wound patients seeking care at the Virginia G. Piper Medical & Dental Clinic at St. Vincent de Paul.
She sees hundreds of wound patients each year at the clinic, which offers more than a dozen specialties and gets more than half of its patients directly from hospitals.
Erin says all kinds of wound cases walk in, from those caused by trauma, car accidents and emergency surgery to more ordinary causes like a blister on a diabetic's foot that refuses to heal. With her wound expertise and training in sharps debridement in such high demand, she volunteers several shifts a week to accommodate all of her wound patients.
Making sure a wound closes and heals properly isn't something most people with health insurance and steady care worry about. The insured typically have a home-health wound nurse to change dressings.
"When you're uninsured and have a wound, you don't have access to that care," says Erin, who notes that the uninsured are left to tend to their wounds themselves. "The materials are extremely expensive and the treatment is complicated, especially without knowledge and skills on how to apply things."
Wounds that remain open risk infection, and Erin stresses an open wound's overall toll on a person's emotional and physical well-being. She's seen patients who have had open wounds for 10, 20 and even 40 years.
"The wound society hasn't gone deeply into the discussion on uninsured wound patients," Erin says, "but as a whole, we see thousands of them each year."
For decades wound specialists have verbally explained or quickly jotted down care and dressing instructions to send home with uninsured wound patients. But in Erin's experience, this did little to progress a patient toward complete closure and often resulted in a wound reopening and return visits.
Erin's solution to this problem became her Doctorate of Nursing Practice doctoral project at Arizona State University, and SVdP's clinic became her field experience in implementing the solution focused on improving self-care and empowering patients.
She designed a brochure that uses step-by-step photographs, common language and 18 stickers to correspond with stickers on dressing materials. Overall, the brochure makes teachable 65 different wound regimens.
Erin incorporates the brochure into her patient's visits and then, using the teach-back method, has them teach her how to care for their wound.
"At visit two, we do it again, and by the end of visit four my patients are wound experts," she says.
"She is dedicated to her patients and advocates for 100 percent of them," says Dr. Maurice Lee, chief medical officer of SVdP's clinic, who also notes how much Erin has advanced wound care practice there. "Providers elsewhere may say what patients need but do not put in the work to get them what's necessary to succeed."
The unique approach has caught the attention of the greater wound specialist community as well, earning Erin a top four abstract spot at the Symposium on Advanced Wound Care national conference and investment from a company to make her brochure available internationally online.
"I'm all about the uninsured population feeling confident in their health and building their health literacy," Erin says. "Our patients are so receptive to the education and are really motivated, so we've had great success."
One such success goes back to the patient who suffered with a sizeable open wound for 40 years. She had been told by doctors that her wound could not be closed and turned to SVdP's clinic instead during another downturn.
"After seeing her nearly every week for eight months, we closed her wound," Erin says. "The team all cried. For someone to live 40 years with a large open wound and to close it…we couldn't have done it without the public's support of St. Vincent de Paul."
Donations made access to materials and treatments for such a hard wound possible. On a recent visit, the patient proudly and gratifyingly reported that the wound remains closed.
"She's doing amazing and really has a much better quality of life," Erin says. "Her story kind of chokes me up."
Erin graduated with her DNP from Arizona State University in May 2018. She also holds an MSN from the University of Arizona and a BSN from D'Youville College in Buffalo, N.Y. In addition to her clinic work, Erin teaches in ASU's College of Nursing and Health Innovation as an associate faculty member. She started volunteering at St. Vincent de Paul's medical clinic in 2011 and has served in numerous roles over her seven year tenure, including three years as associate medical director, prior to her position as wound care director. Previously, she worked as a nurse practitioner for 10 years in the veteran population of Arizona. She has a passion for working with the underserved and found her calling in wound care after discovering the great need for wound specialists in those populations.