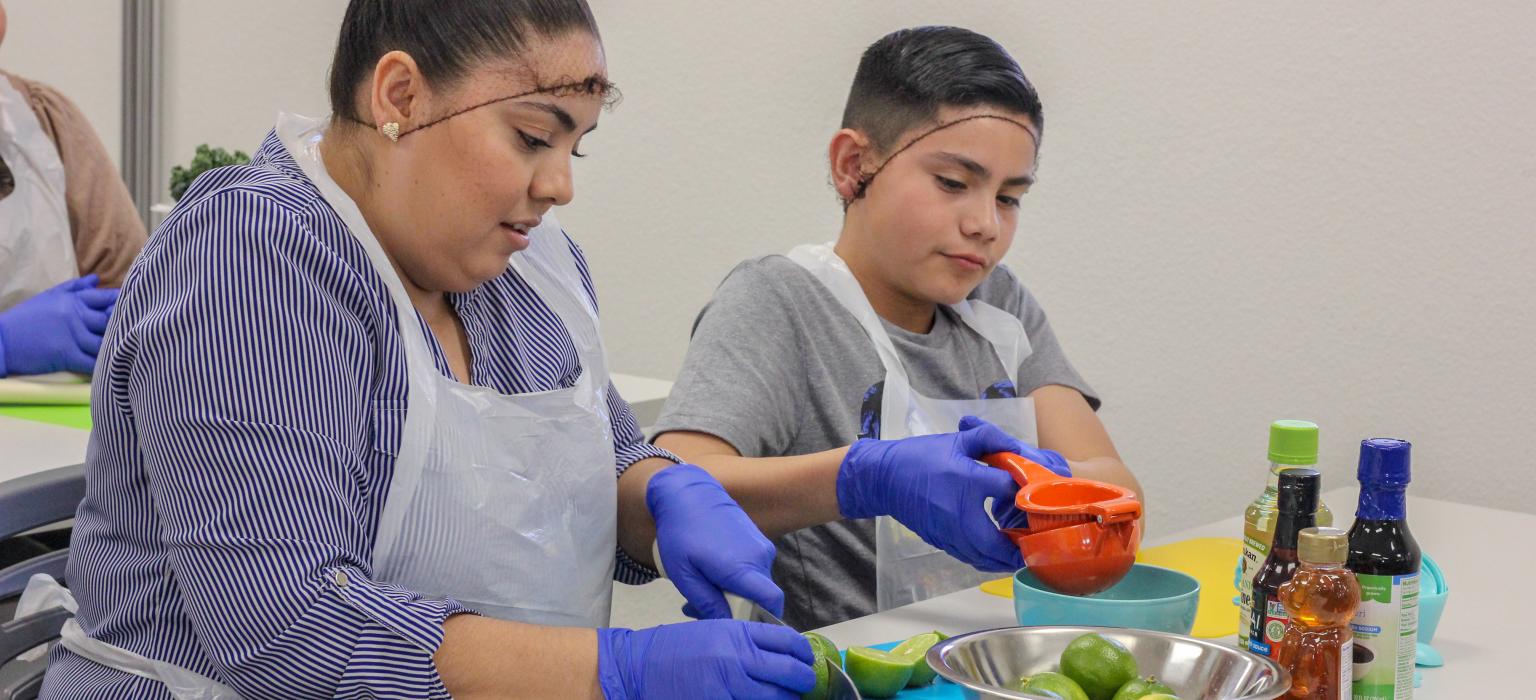 Program
Center for Family Wellness
Our education programs focus on prevention and management of chronic diseases through nutrition, physical activity, and overall wellness. Individuals, families, and children learn to make lifestyle changes with the support of their community and our passionate, culturally competent staff.
The Society of Health and Wellness for Life
The Ben & Catherine Ivy Foundation Center for Family Wellness was established in 2000 to help individuals and families in our community make positive lifestyle and behavior changes that focus on reducing the risk or prevent complications and the negative outcomes of prediabetes, diabetes, and other chronic illnesses.
Individuals and families are offered classes and services at no cost delivered by Registered Dietitian Nutritionists (RDN), who are Certified Diabetes Care and Education Specialists (CDCES).
The program empowers individuals and families in taking preventative action to improve their health outcomes. With the support of local community partners including ASU Center for Health Promotion and Disease Prevention, Valley of the Sun YMCA, Phoenix Children's Hospital, St. Joseph's Pediatrics, and Arizona Department of Health Services we are able to increase our reach and work towards a shared goal of improving health and preventing disease in vulnerable populations.
By the numbers
patients with type 2 diabetes or prediabetes
average improvement in patients with type 2 diabetes
Services and Resources
Individual Consultation
Patients in need of more intensive nutrition therapy are provided individualized consults. With the guidance from Certified Diabetes Educators and Registered Dietitian Nutritionists, they work to set health priorities and goals to support their journey towards improved health.
These services are available only to patients referred by SVdP Virginia G. Piper Medical Clinic.
Group Classes
Diabetes Education classes
Family-based diabetes prevention classes (Prevent T2)
Family Diabetes Prevention Program (FDPP) for youth at high risk. Includes free nutrition and excise classes delivered by health trained professionals and partners in the community.
Volunteers, students, and interns, not only share their time and talents with the Center but they are provided the knowledge and mentorship to better help the vulnerable populations served at St. Vincent de Paul. We are committed to helping create the next generations of culturally grounded nutrition and health professionals. The Center's team acts as preceptors for the dietetics student interns from local and distance internship programs. To learn more, contact us at familywellness@svdpaz.org
There's no "off season" for our neighbors in need.
Your monthly gift ensures that nobody who comes to us for help will be turned away.
THE SOCIETY STARTS WITH YOU
It takes a Society of One Million committed people like you to serve everyone who needs help
Locations
Learn more about our location in Phoenix
Volunteer Opportunities
At SVdP, 95% of our workforce are volunteers-like YOU. We believe that we can accomplish more when we all do it together. Thank you for sharing your skills, time, and heart with us. Thank you for being part of the family.
No Volunteer Opportunities related to this program.
Connect with us on Instagram
Learn more about what our classes have to offer, get healthy recipes, and meet our outstanding team of registered dietitians.