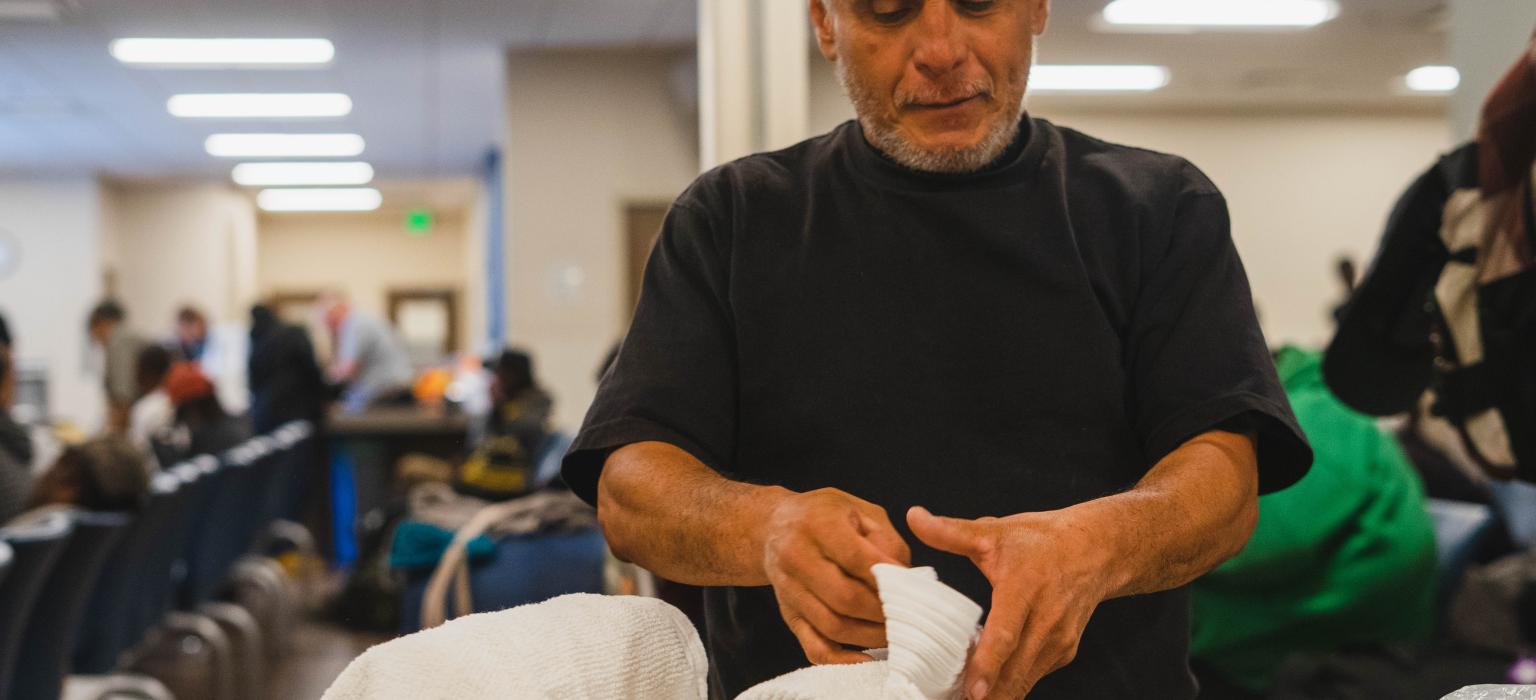 Program
Exiting Homelessness
Housed on our Watkins Campus, our Resource Center provides a safe haven for families and individuals in need of help. Homeless guests are welcomed with showers, clothing, shoes, counseling and referral services.
The Society of Never Give Up Hope
At St. Vincent de Paul hope is not lost for our neighbors living on the street, in their cars or couch surfing. The work of solving someone's homelessness can feel like an uphill battle, but we take it one day, one goal, one person at a time. As unique as someone's journey was into homelessness, so is our help in getting them off the street and back into housing. Our outreach, resource, social work and move-in programs work together to achieve the task of meeting basic needs today while tackling larger barriers preventing people from gaining stable housing. With love, compassion and care, our teams help some of our most vulnerable neighbors find the hope they've been looking for and a lighted path back home.
By the numbers
Individuals moved into stable housing last year
touchpoints of services, including hot showers and clean clothing
worth of furniture and home goods welcomed 45 people home
Services
Our Celebrity Fight Night Water Truck offers street relief, delivering water, food, clothing and hygiene kits to some of our most vulnerable community members living on the street. Everyday the water truck drives a different route in the Valley, seeking out remote areas around underpasses, canals and arroyos, where there are known encampments or small groups of people living far from services. Without the water truck and the life-saving resources they deliver, many more people might perish from the extreme heat.
In the middle of homelessness, it can feel overwhelming not knowing next steps and who to trust as individuals and families try to regain housing. Our Social Work Services team offers care and case management to help individuals and families find their path off the street. With a dedicated case manager and wraparound services, the Social Work Services team helps identify barriers and motivates people to work toward achievable goals. They provide connection to mental health resources and trauma support as well as financial assistance with application fees, deposits, bill and rent payments. Whatever it takes to get someone housed, the Social Work Services team is ready to help people exit homelessness for good.
From hot showers to fresh clothing, hygiene items, sack lunches and mail pickup, the Resource Center at St. Vincent de Paul helps meet the basic needs of guests living on the street so that they can feel refreshed and presentable as they start to look for work, hold down a job and address some of the bigger issues keeping them from housing.
So many times, the only possessions people who are experiencing homelessness have are what they can carry or fit in their car. After St. Vincent de Paul rehouses an individual or family, there is still more work to be done. On move-in day our Home Furnishing Program takes newly housed guests on a SVdP Thrift Store shopping trip to pick out furniture and household essentials. Then, our truck team delivers the items and helps set everything up, turning an empty house into a cozy, new home.
You can support the program by donating your gently used furniture and home goods to one of our Valley thrift stores.
Solving homelessness takes a community. That's why St. Vincent de Paul partners to bring additional community agencies and resources to the people we serve at our dining rooms and our Resource Center. Some of those partners include Arizona Department of Economic Security, Circle the City, Community Bridges, Inc.,Homeless ID Project and St. Joseph the Worker—all of whom help us provide connection to things like ID replacement, medical care for people experiencing homelessness, employment services, mental health support and more.
Support SVdP's Housing 2025 Initiative
Help us permanently rehouse 2,025 people in Phoenix by 2025.
SVdP's goal is to house 2,025 people by 2025
Stay up to date, get the whole picture in a monthly update on our progress, and learn about homelessness in our community.
Locations
Learn more about our locations to help individuals exit homelessness around the Valley
Volunteer Opportunities
At SVdP, 95% of our workforce are volunteers-like YOU. We believe that we can accomplish more when we all do it together. Thank you for sharing your skills, time, and heart with us. Thank you for being part of the family.
Resource Center
The SVdP Resource Center provides a safe haven for individuals in need, welcoming guests with showers, clothing, shoes, counseling, and referral services.
Water Truck
The Celebrity Fight Night Water Truck goes out onto the streets of Phoenix and its outlying areas, hand-delivering water, sack lunches, hygiene packs, clothing, and other seasonal items to individuals experiencing homelessness.