While most teenagers use Saturday mornings to catch up on much-needed sleep, two Mesa high school students spend it getting food boxes ready and going on home visits to ensure neighbors in need have food on the table and other basic necessities.
Felicia Kerns, a sophomore at Mountain View High School, and her cousin Gillian Vaugh, a freshman at Xavier College Preparatory, have been volunteering at one of St. Vincent de Paul's community pantries for years. The girls, along with her mothers, are in charge of home visits one Saturday every month.
St. Bridget in Mesa is one of more than 80 SVdP community pantries, also called "conferences," based out of Catholic churches in central and northern Arizona. In 2014, almost 7,000 volunteers went on more than 48,000 home visits and delivered 6 million meals through emergency food boxes.
On a Saturday morning in March, Felicia and Gillian made six home visits to deliver food after preparing boxes to especially fit the needs of the family. Some of them included diapers and even books if there were young children or teenagers in the family.
"There is nothing like the good feeling you get knowing you're giving back and doing something for people who need it," Felicia said.
Last year, the pair became some of the youngest-ever Vincentians, as they completed the Ozanam Formation Experience Classes, the cornerstone of the Vincentian vocation.
"I love doing this because we're so blessed and we have been given so much, so for us it's important to give back as well," Gillian said. "But it's also a lot of fun. Doing this with my cousin and spending time with her is amazing."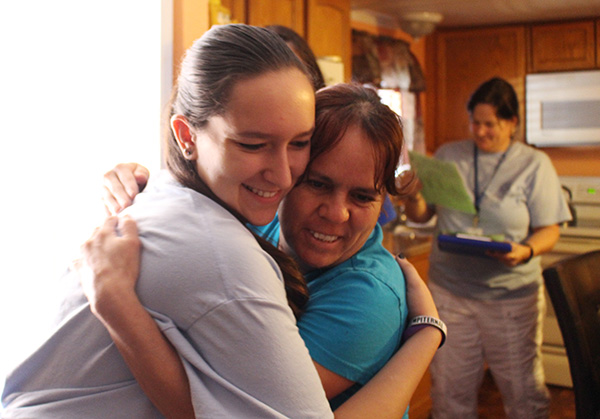 In fact, Gillian and Felicia are the third-generation in their family to become Vincentians. The tradition was started with their grandparents, and their daughters soon followed.
Patti Kerns, Felicia's mom, said she hopes when the girls have kids, they will also be involved in volunteering.
"This is what our mom wanted," she said. "One Christmas, my sister and I thought we would surprise them with serving and they could not have been more excited. Now here we are, with our daughters!"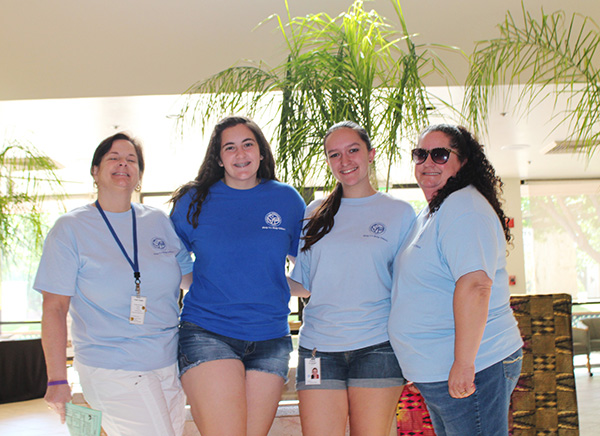 Most people are surprised when they see how young Gillian and Felicia are, they said, but the responses are always positive. Sometimes, the foursome is joined by some of the girls' friends, who are curious to see why they choose to spend time volunteering.
"Our friends all think this is amazing," Felicia said. "They realize there's no better feeling that giving back, and that we are also having fun while doing it."
The experience not only gives the pair a glimpse at the harsh reality some people face day to day, but also teaches them a valuable lesson in service and leadership, Paula Vaughn, Gillian's mom, said.
"Some people think we force our daughters to serve, but they love it," she said. "I just think this opportunity will benefit the girls so much, in many ways."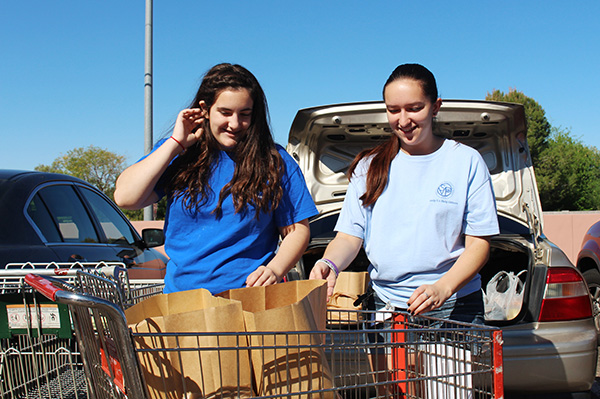 On their way to delivering food, the girls like to listen to music, sing and talk. As soon as they arrive to the house they are visiting, they spring into action and get all food from the trunk and bring it inside.
"I'm not going to lie, it can make you feel kind of sad sometimes to see how hard some people have it," Gillian said. "But there's really nothing like knowing that food, or book, or whatever else, will help someone."