Remote video URL
Biking for her Family
SVdP gave Odalys a bike, now she's able to serve her family in new ways
Odalys grabbed the red bike, it had caught her eye, but after trying it something didn't feel right. That's not the one, she thought, then set it back. Then she notices a light blue bike – it's perfect!
Frank, manager of the Bike Shop at St. Vincent de Paul, takes the bike inside the Bike Shop to make sure it's ready. He checks the tire pressure, the height of the seat, the brakes; everything looks good to go. He hands the fully refurbished bike, which was donated during the ABC15 Second Chance Bike Drive, back to Odalys. It was all ready for her to take home – and completely free of cost to her.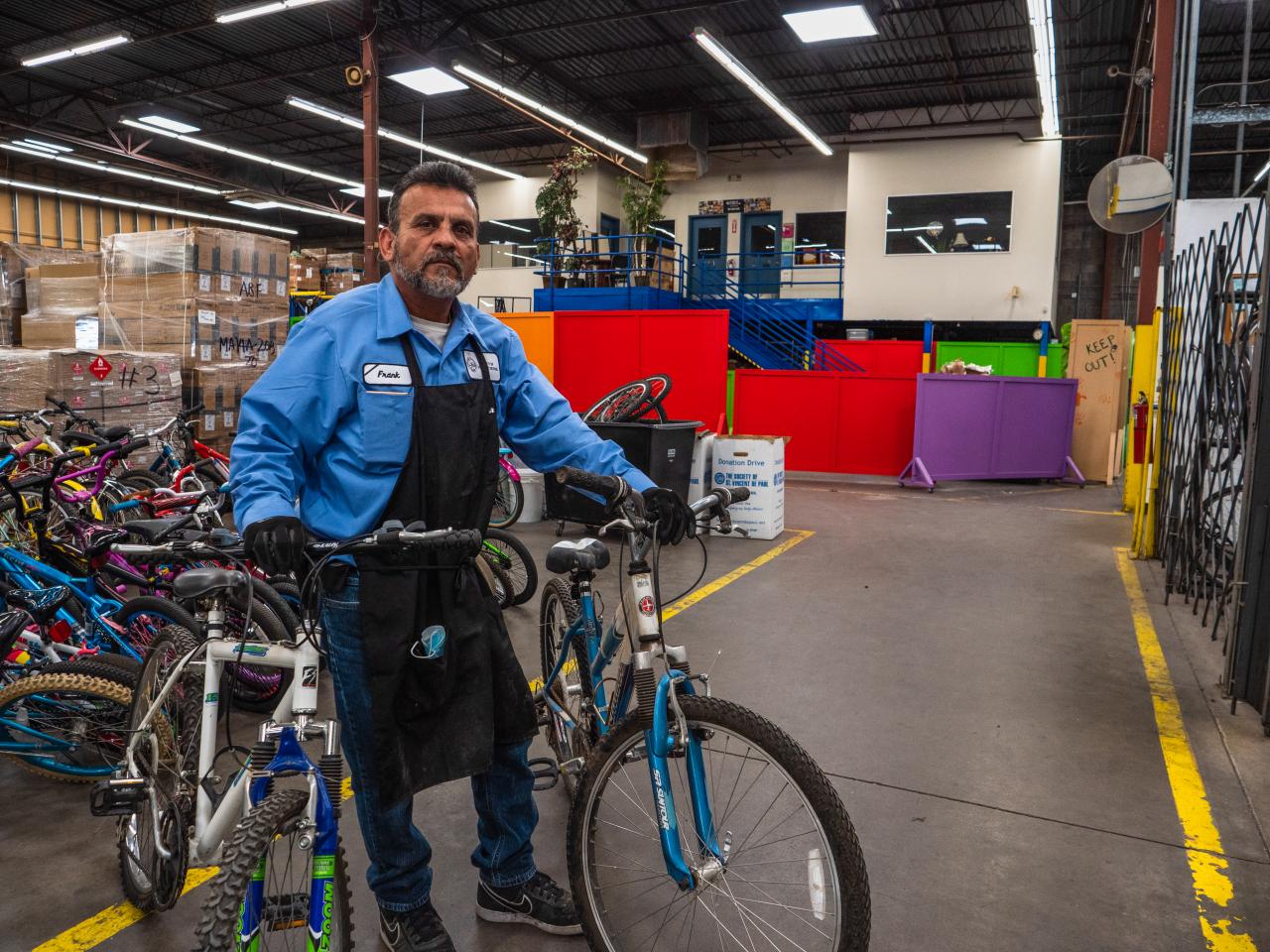 Odalys was able to get this bike for free through a program at SVdP. All she had to do was fill out a simple application.
It was important to Odalys to get a bike so she could get herself to school instead of needing to use the family car, which takes it away from her mom who has to use it throughout the day.
"I go to school, and I commute a lot, so it's kind of hard to take the car because my mom shares it with me. So, I can't always take it from her," she said. "I feel better now knowing that I can go to school on a bike… and we don't have to share the car as much."
Odalys is a first-generation college student studying social work at ASU and an intern in the Resource Center at SVdP, where she connects families to life-changing resources and services. She applied for SVdP's One At A Time Scholarship, which has helped her in attaining her education.
But anyone can apply for a bike, it's as easy as filling out an application. Most often, families learn about the opportunity at the Family Evening Meal on SVdP's main campus. They're able to fill out the application over dinner and move toward getting their kid a bike.
Join ABC15 and Earnhardt Auto Centers to support families and give the gift of fun, exercise and transportation. Drop off your gently used bikes at Earnhardt Auto Centers 9 a.m.-5 p.m. on Saturday, Sept. 17.
Second Chance Bike Drive with ABC15 and Earnhardt
Get wheels to someone like Odalys who needs reliable transportation.