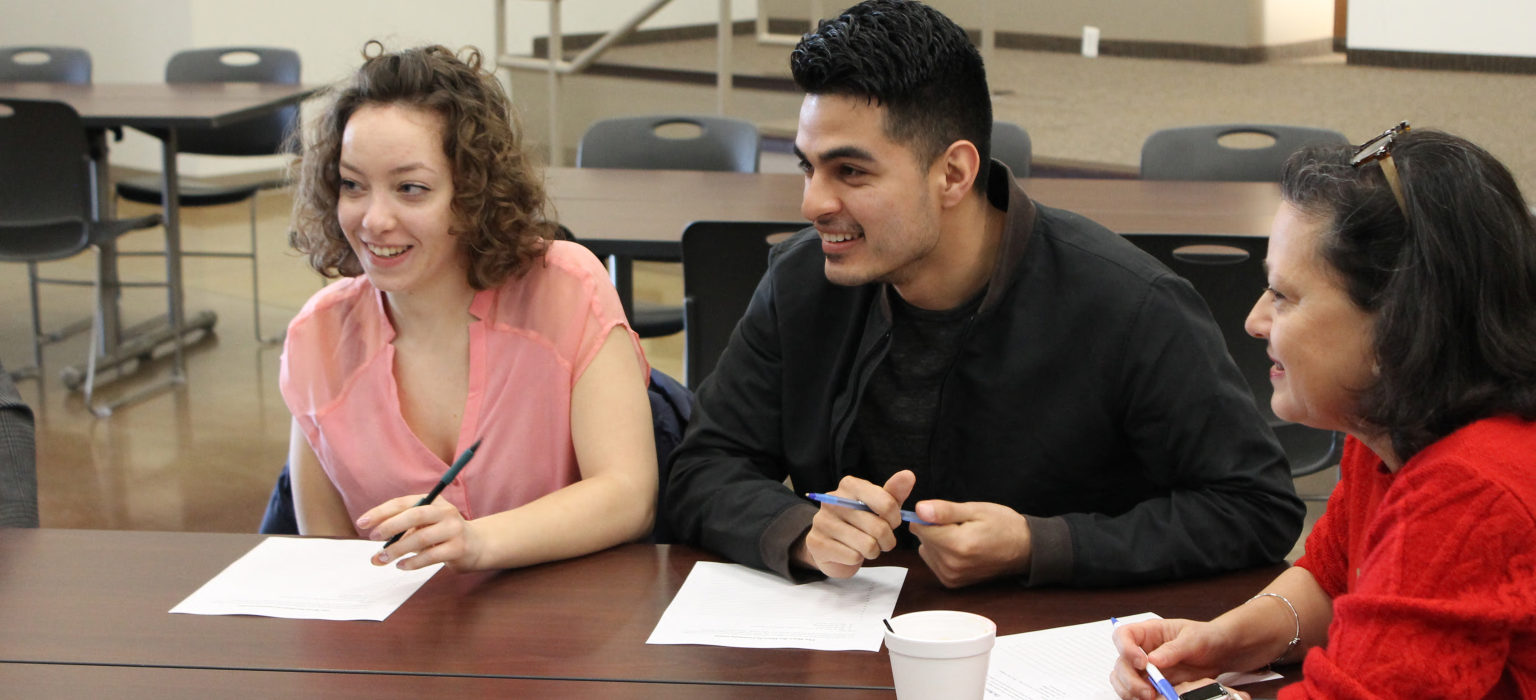 Program
College Scholarships and Internships
St. Vincent de Paul's scholarship and internship programs provide comprehensive support for college students, challenging them to rise above perceived limitations and work toward the best version of themselves while supporting their community.
The Society of Young Talent Given a Chance
Some of the greatest hope at St. Vincent de Paul lies in the promise of the next generation. That's why we offer college students opportunities to not only afford higher education but also gain leadership and field experience in the nonprofit sector. We do so through two unique programs—the SVdP Scholarship Program and the Leadership in Action Fellowship—which far transcend the traditional offerings of scholarship and fellowship programs by providing individual mentorship and access to area experts, resources and opportunities. We envelope students in personalized support, recognizing each student's unique circumstances and talents, while also challenging them to rise above perceived limitations to imagine and work toward the best version of themselves and their community.
By the numbers
first-generation graduates from SVdP Scholarship Program
students completed their degree programs in 2022
Leadership in Action Fellowships completed to better our community
What we do
St. Vincent de Paul's Scholarship Program has been driving systemic change for over 20 years by helping transform the lives of first-generation college students. Our program provides not only financial assistance, but also a robust support system of mentorship and resources to help guide scholars to success in their college careers.
We help scholars overcome the unique barriers that first-generation students face through one-on-one dedicated mentors and workshops. Often coming from low-income families, our scholars balance work responsibilities, paying family bills and navigating socio-economic pressures. With a holistic approach, SVdP's Scholarship Program aims to see each and every scholar not only to the graduation finish line, but firmly planted on a path toward upward mobility and professional success.
SVdP has scholars at in-state institutions including Arizona State University, the University of Arizona, Northern Arizona University and Maricopa County Community Colleges. If you wish to mentor a scholar or share your expertise at an upcoming workshop, contact Andy Romley at 602-622-4566 or aromley@svdpaz.org.
The Leadership in Action (LIA) Fellowship at St. Vincent de Paul is an elite fellowship program for undergraduates and recent graduates aimed at developing the next generation of compassionate leaders, inspired to engage in innovative community solutions.
Instead of a task-centric internship, the heart of our LIA Fellowship is an emphasis on fellows' personal growth as they're provided opportunities to develop leadership skills, learn the nonprofit sphere and contribute to nonprofit solutions around services, operations, community engagement and more.
With fall, spring and summer fellowship opportunities, our program engages fellows in a collaborative framework that includes one-on-one mentoring, educational panels with area and community experts, and "Fellow Forum" gatherings where fellows run their own meetings, set agenda topics and share their experiences. Thanks to the generosity of our donors, LIA fellows receive stipends with the hope that investing in the fellows now will translate into future leaders ready to guide us toward a stronger, better community for us all.
How to apply?
If your university uses Handshake, please visit Handshake and search "The Society of St. Vincent de Paul". Please follow the instructions to apply via Handshake.
If your university does not use Handshake, please view opportunities and send a resume and cover letter, explaining your interest, experience, future career goals, and which specific fellowship you are interested in, to svdpfellows@svdpaz.org.
St. Vincent de Paul offers a wide array of unpaid internship experiences that fit a variety of passions and requirements. Whether you're looking to gain direct service experience, learn more about non-profits, explore a career path, or fulfill a requirement for school, we'd love to connect to see how we can best serve you. Reach out to Morgan Dircks at mdircks@svdpaz.org to see if we can provide the right opportunity for you. Please include a resume and details about the opportunity you're looking for.
Invest in a future today.
Help people avoid circumstances of need. God willing, our scholars and fellows won't ever need us for a meal, healthcare or bill assistance. That's the power of helping now in lieu of later.
THE SOCIETY STARTS WITH YOU
It takes a Society of One Million committed people like you to serve everyone who needs help