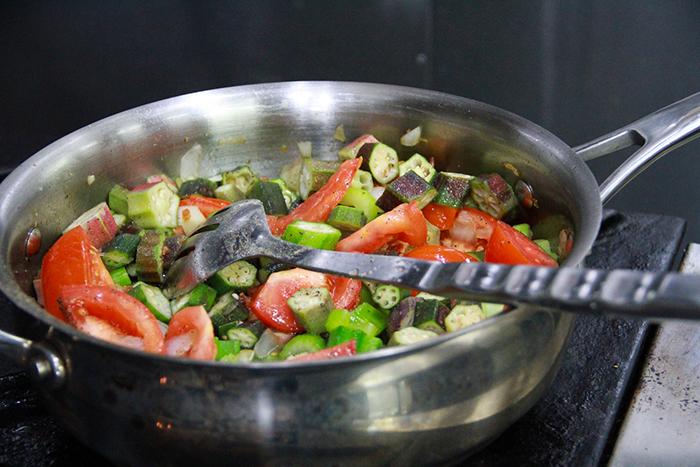 Farm to Fork: Cooking With Okra
Learn How to Create a Simple and Healthy Okra and Tomato Dish
Welcome to St. Vincent de Paul's new healthy food recipe series – Farm to Fork! Each month we will share a new healthy recipe created by SVdP Head Chef Chris Hoffman, who will be using produce harvested from our Urban Farm. In addition to the recipe, you'll also learn the health benefits of the fresh ingredients used, provided by our Family Wellness Program health education coordinator, Maria Silva.
Health and wellness is a top priority at SVdP as we aim to address root causes of poverty and food insecurity. And we can do this holistically through the combined efforts of our Urban Farm, dining rooms and Family Wellness Center. We hope you enjoy the series! This month we are featuring a delicious and easy-to-make Okra and Tomato dish.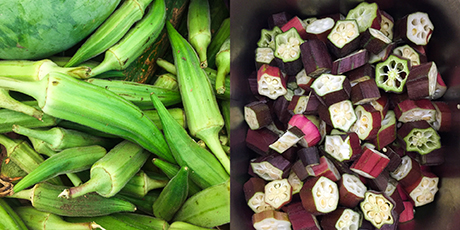 Okra, also known as lady fingers for its shape, is native to Ethiopia. It is commonly used to make gumbo. When the pods are cut, a thick, sticky juicy is excreted, making it a great thickener for soups and stews. Okra pods are high in fiber, vitamin K, vitamin C, folate, and it's low in calories. When shopping for okra, look for pods that are bright green in color and firm to the touch. Do no wash it until you are read to prepare it. The flavor of okra blends well with acidic foods, such as tomatoes.
Okra and Tomatoes
Ingredients:
2 stalks of celery
1 pound of diced okra
1 cup of chopped onion
1 cup of green bell peppers
2 strips of low-sodium bacon
1 pound of diced tomoatoes
1 teaspoon of canola oil
Salt and pepper to taste
Preparation:
Place bacon in a large, deep skillet. Cook over medium high heat until evenly brown. Drain, crumble, and set aside. Saute okra, onion, pepper and celery until tender. Add tomatoes, salt and pepper and cook until tomatoes are heated through. Garnish with crumbled bacon. Add protein of your choice; remember that learn proteins are lower in fat -- chicken, turkey and fish.
Enjoy!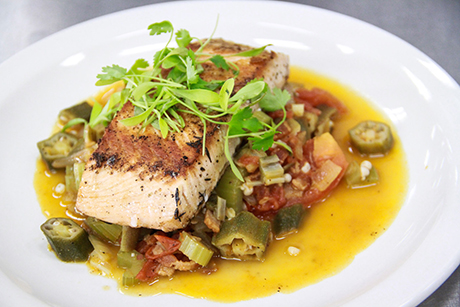 One unique quality about our Family Wellness Program is that it is a culturally responsive program. Our health educators teach bilingual classes to reach more in our community. So each month, we will also provide our recipe in Spanish!
Okra y Jitomate
Ingredientes:
2 tallos de apio
1 lb de okra en trozos
1 taza de cebolla picada
1 taza de pimiento verde picado
2 rebanadas de tocino bajo en sodio
1 lb de jitomate en trozos
1 cucharada de aceite de canola
Sal y pimienta al gusto
Preparación:
Pon el tocino en un sartén grande y hondo. Cocina a fuego medio hasta dorar. Remueve del fuego, escúrrelo y hazlo pedazos. Pon a calentar el aceite a medio fuego, una vez caliente saltea la okra, cebolla, pimiento verde, y apio hasta que se suavicen. Agrega el tomate, la sal y la pimienta. Deja cocinar hasta que los jitomates estén cocidos y suaves. Adorna con los pedazos de tocino

Agrega la proteína de tu preferencia, recuerda que las proteínas blancas son bajas en grasa; pollo, pavo, y pescado
Don't forget to follow #SVdPFarmtoFork on our Facebook and Twitter to learn a new, healthy recipe each month!