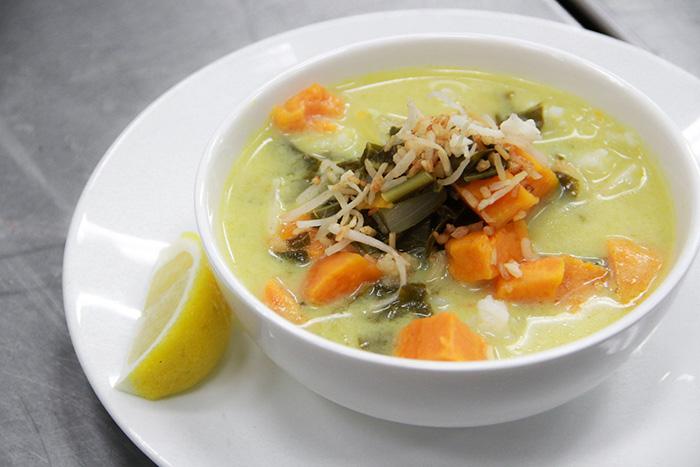 Farm to Fork: Cooking With Sweet Potatoes
Learn how to make a healthy Sweet Potato and Kale Soup
In this month's Farm to Fork series, we are featuring a healthy and delicious recipe for Sweet Potato and Kale soup. Head Chef Chris Hoffman used produce harvested from our Urban Farm and other ingredients for this hearty stew. In addition to the recipe, you'll also learn the health benefits of eating sweet potatoes, provided by our Family Wellness Program.
Sweet potatoes are native to the Americas and are a great source of nutrients. They are most commonly orange, but also come in a beautiful purple color. Sweet potatoes are a good source of fiber, Vitamin B6, Vitamin A and potassium. To get the most nutrition out of sweet potatoes it is important to pair them with a healthy fat, as it will increase the uptake of Vitamin A.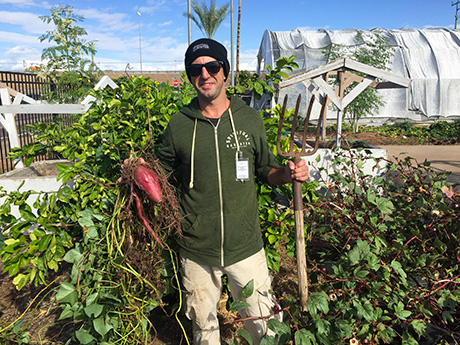 Sweet Potato and Kale Soup (Serves 4)

Ingredients:

2 teaspoons of canola oil
1 chopped onion
2 cloves of garlic
1 chopped jalapeño
3/4 pound of chopped kale
3 chopped sweet potatoes
1 1/2 cups of chicken or vegetable broth
1 1/2 teaspoons of sea salt
1 cup of coconut milk
1 cup of cooked rice (white or brown)
1 teaspoon of toasted coconut for garnish
4 lemon (or lime) wedges

Preparation:

Heat the oil on low heat. Add the chopped onion and stir occasionally until its translucent. Stir in the garlic and jalapeño; cook until soft. Stir in the kale, sweet potato, broth and salt. Stir and cover partially, bring to a boil. Reduce to a simmer and cook until the potatoes become tender. Add the coconut milk and stir. Continue cooking for about five more minutes. Serve in a bowl over a spoonful of rice and a wedge of lime on the side for additional flavor. Enjoy!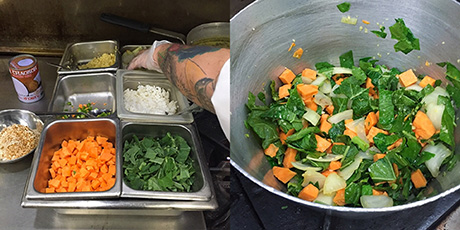 One unique quality about our Family Wellness Program is that it is a culturally responsive program. Our health educators teach bilingual classes to reach more in our community. Below is the recipe in Spanish!

Sopa de camote y col rizada (Para 4 personas)

Ingredientes:

2 cdta aceite de canola
1 cebolla picada
2 dientes de ajo
1 jalapeño picado
¾ lb de col rizada (kale)
3 camotes picados
1.5 taza de caldo de pollo
1.5 cdta de sal de mar
1 taza de leche de coco
1 taza de arroz previamente cocido
1 cdta coco tostado para decorar
4 rebanadas de limón

Preparación:

Calienta el aceite a fuego bajo. Agrega la cebolla, moviendo ocasionalmente deja cocer hasta que esta transluciente. Agrega el ajo y jalapeño, cocinando hasta que este suave. Agrega la col rizada, el camote, el caldo de pollo y la sal. Cubre parcialmente y deja hervir. Baja la temperatura y cocina hasta que la calabaza este suave. Agrega la leche de coco y deja cocinar por otros cinco minutos. Sirve en un plato hondo con una cucharada de arroz y una rebanada de limón. Disfruta!
Don't forget to follow #SVdPFarmtoFork on our Facebook, Twitter and Instagram to learn a new, healthy recipe each month!