Remote video URL
Newly housed and full of hope
Denise Gutierrez's story of exiting homelessness and getting back on her feet
In a small studio apartment in North Phoenix, Denise Gutierrez waits anxiously for a video call. Today she has a job interview with Peckham Inc. for a customer service position; a job she hopes will lead to a career helping those with disabilities, like herself, find jobs of their own.
Just a few months ago, Denise could have never imagined herself in this position though. She is renting her own apartment thanks the support of St. Vincent de Paul's Angels on Call program, reconnecting with her family, and celebrating six months of sobriety. She was quite literally a different person experiencing homelessness in Downtown Phoenix.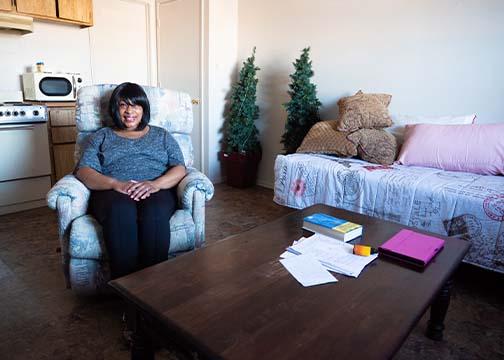 After her car and wallet were stolen in 2019, she had a nervous breakdown and turned to something that had been familiar to her all her life – drugs. Denise had experienced periods of sobriety and periods of drug use throughout her life. This was the first time she was homeless though; she had burnt her bridges with her family, and they cut all ties with her. So, she was living on the streets with nowhere else to go.
"Being homeless, every day if you're not with someone, your life is in danger," Denise says. She remembers nights huddled behind dumpsters using cardboard and blankets to help protect herself from the elements.
Denise first heard about SVdP through the homeless community and came to the Resource Center at the Bruce & Diane Halle Center for Hope & Healing for daily showers, clean clothes, and meals. During Summer 2021, she also found refuge in SVdP's emergency overnight heat relief shelter.
"It was a safety net," Denise remembers of her nights staying in the shelter, "because when you're a woman and you're sleeping out on the streets you don't know what is going to happen to you. And to be honest, I did drugs. I didn't want to go to sleep because I didn't want anything to happen to me. So, I would stay up all night, and then when you've been up for two to three days your body just shuts down. And it's just down to the point where you don't know what's going on around you. So, to be able to go into the heat relief [shelter] for an overnight stay and know that you're safe, that was huge."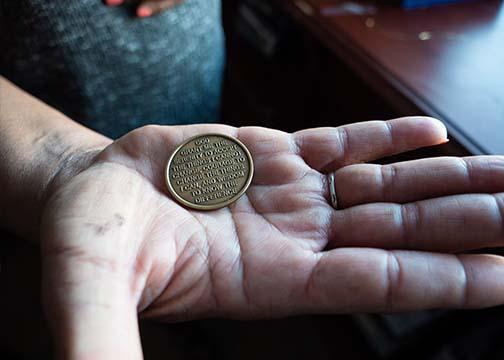 She spent months coming to SVdP to help fulfill her daily needs. Her mental health issues made it hard for her to work with others around her though; hard for her to trust. She felt scorned by the world and wanted a quick fix to end her homelessness.
"I was always angry," Denise says, "very angry when I went in [to the Resource Center]. I thought I deserved everything, and that I should be first. I shouldn't have to wait."
But when Denise met Krashanda Cleveland, the manager of SVdP's Social Work Services program, the two formed an immediate bond. Krashanda patiently listened through the anger and frustration as Denise talked about homelessness, missing her family, and the issues she was going through. Slowly, Krashanda built up trust with Denise.
"Every time she took a step forward, I congratulated her on that," Krashanda says. "We celebrated that small step because it was a lot for her to actually go through it and complete it. Before it was just her halfway doing it, or 'I went, but they wouldn't see me.' And that wasn't the case she just went, and she left. She wouldn't stay for the services."
Denise went to Community Bridges Inc. (CBI) and went through a detox. Then, Krashanda took the next step and helped Denise get into a treatment facility. It was there, Denise admits, she hit rock bottom. She had relapsed and overdosed smoking a bowl laced with Fentanyl and ended up at St. Joeseph's Emergency Room. She knew at that point that she had to make that change stick.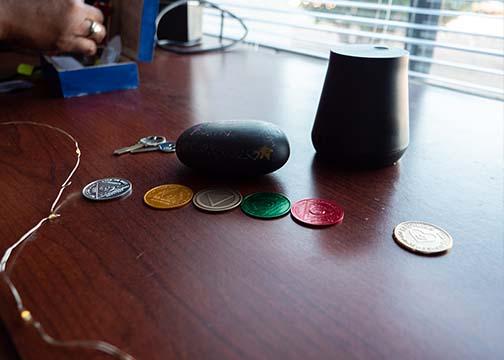 She went through another treatment program, got back on her medication, and within a few months Denise got a job as an assistant manager at Goodwill and moved into her own apartment. That's when SVdP's Angels on Call program stepped in to help her pay her security deposit, first and last month's rent and some utilities as well.
"We wanted her to be successful," Krashanda says. "We didn't want her to fail. We didn't want her to worry about, 'Oh how am I going to pay my rent when I just started working?'"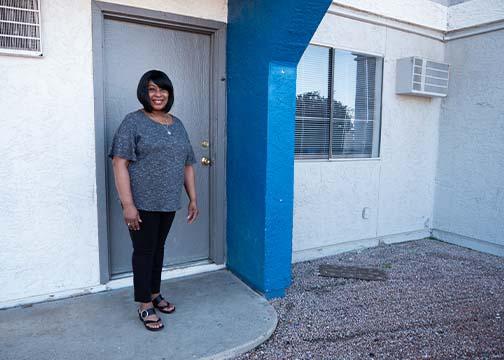 Angels on Call is a program that has helped hundreds of Valley residents who are moving into stable housing get back on their feet. Donors can easily sign up to become an angel online, and they are called upon to help real people, like Denise, in times of crisis and recovery by funding a real-time emergency. These real-time emergencies can range from assistance for rent, mortgage, or utility bills to furniture or basic needs to help someone get settled in.
"Angels on Call is an opportunity for any one of us to raise our hands and say to St. Vincent de Paul, 'When someone's in need, call me. I want to help,'" Ryan Corry, SVdP's chief strategy officer, says. "So, when one of our neighbors comes to us in an emergency, an angel can step forward and help them with a financial gift."
One of the most unique parts of the program, is that donors will be able to help solve a crisis for an individual or family in need in real-time.
"There are a lot of people in our community, like Densie, who just need a little bit of help to regain their footing and their stability," Ryan says. "So, what we want people to do is just think about the times in your lives when you've needed help, and if someone was to step forward and walk alongside you and provide that help, that may be the only thing you need. And that's what we're here to do."
With a stable career option in her future, Denise is set up to support herself moving forward. Having her rent paid for a few months, and careful budgeting during her time with Goodwill, means that she doesn't have to worry about how she will pay next month's bills. It gives her peace of mind that one small setback won't lead her down the path of homelessness again.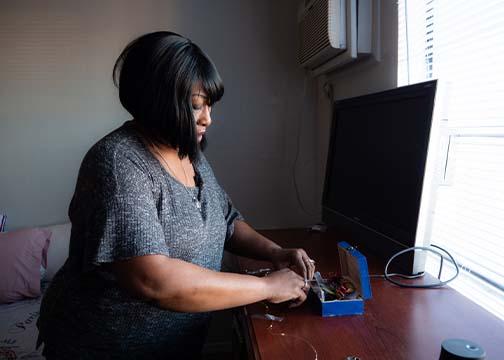 "I want to give people hope the way Ms. Krashanda gave me hope," Denise says. "I want my story to inspire somebody else to know that it can be done."
Want to join our Angels on Call program?
Learn more about how you can be an angel for those in need.