Remote video URL
The seed planter harvests joy through service
Farm volunteer Tom Jones, who has a visual impairment, finds fulfillment in helping with his hands and serving toward something greater than himself
St. Vincent de Paul continues its 2021 Mind.Body.Spirit. wellness blog series. Below is the third and final part, which aims to inspire wellness of "the Spirit" by exploring the soulful nourishment volunteer Tom Jones finds in connection to community, service to those in need and closeness to the Earth on SVdP's Rob and Melani Walton Urban Farm.

Hundreds of young plants peek up from their seed-sprouting containers inside the hoop house of St. Vincent de Paul's Rob and Melani Walton Urban Farm. Point to any one of those sprouts, and you can probably bet that Tom Jones planted it.
The weekly volunteer seeds about 400 plants every time he visits, but a genetic visual impairment denies him the sight of all the plant life he's helped start at the farm. What can't be denied is what Tom feels both with his hands and his heart.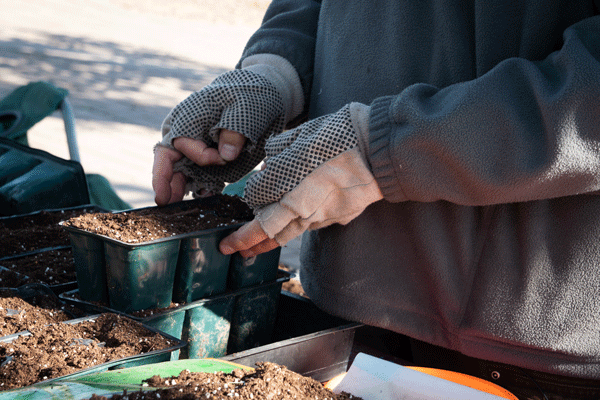 "I can feel the thickness and the texture of the stem. I can feel the soil, whether I'm harvesting or planting seeds," Tom says. "It makes me feel joy, a deep feeling of wellbeing."
Tom, who is 75, began slowly losing his vision in 2007. He retired shortly thereafter, having worked 17 years in the car wash business and 11 years in the food distribution and vending machine business. He and his wife currently live in north Phoenix, where Tom has a home garden. Advice on his struggling plants is why Tom first sought out the Urban Farms Program at SVdP.
He came seeking information but found so much more. That was around springtime 2020, shortly after the pandemic began. Ever since, Tom has volunteered on the farm with the help of his seeing-eye dog Rhoda. Together they contribute to the mission to help the farm grow nutritious food for people in need, who visit SVdP's dining rooms for meals and who otherwise might not have access to such fresh food.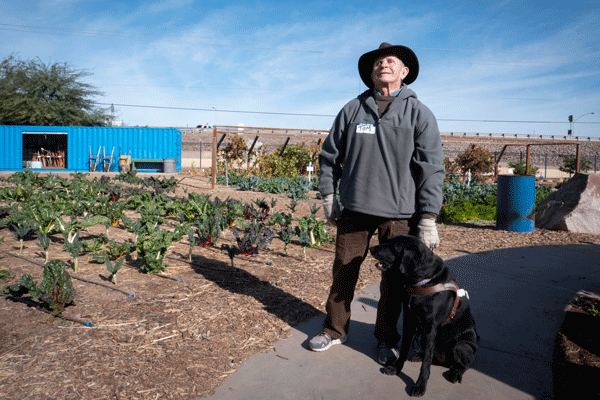 "Back in my home garden it's different," Tom says. "Here, it's much more. It's service to the community. I'm giving something to the community that is bigger than just me."
In 2020, all three of SVdP's urban farm locations together harvested more than 29,000 pounds of fresh produce free of pesticides and full of nutrients to help feed people in need.
When Tom works on the farm, he likes to visualize the entire farm to table process. And being a faithful man, he prays over each step from growing the food to delivering it to people experiencing food insecurity.
"I pray over the seeds that are going into the garden," Tom says. "Or I pray over what I'm harvesting — that the people who are getting the food are blessed. Not only that, but the people who water the seed in the greenhouse are blessed and enjoy the feeling and smelling the produce here on the farm. I hope people can look up and just have a real surge of thankfulness for being near the Earth and the dirt and the plants, but also the nutrition that comes from them."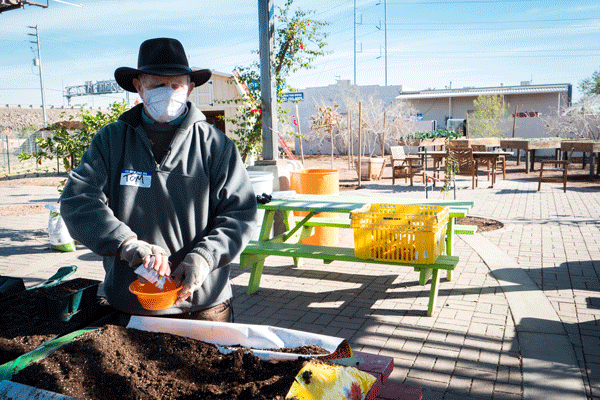 Beyond connection to the community he helps feed, Tom has also gained friendship with those who work and volunteer on the farm. He's harvested alongside people of all ages, religions and backgrounds. They have lively conversations and learn together from the farm staff about soil, season, planting, watering and harvesting. Associate Farm Manager Taylor Scarpelli has been especially helpful.
"Taylor is so warm and loving," Tom says. "She loves the dirt, the soil. But the love she has for plants and the knowledge she has, the way she so matter-of-fact gives that, she makes it feel possible. She is so patient and kind. It's like you feel really welcomed."
"I love working with Tom because he really does bring a bright energy and spirit to the farm," Taylor says. "He makes true, genuine connections with people, and he's always so grateful to be here. I feel so lucky, especially because he's always ready to help. It doesn't matter what it is. He just goes for it and doesn't let anything hold him back."
Since volunteering on the urban farm, Tom's gotten a lot of exercise and a lot of sunshine even during the pandemic. Serving in the farm gave him good reason to get outside and escape the indoors. His home garden is also doing a lot better these days.
"My spinach and lettuce are doing really nice," he says. "They're about a foot high, and it's about time to harvest them."
He recently planted swiss chard, a leafy green his father loved but he'd never tasted until volunteering at SVdP's farm. Tom also is growing some spaghetti squash for his wife, who is still working but he hopes one day will join him on the farm to volunteer. He doesn't see himself stopping the service routine that brings so much fulfillment to his spirit and the community.
"I think that I will probably be here for a long time," Tom says. "I'm looking forward to it."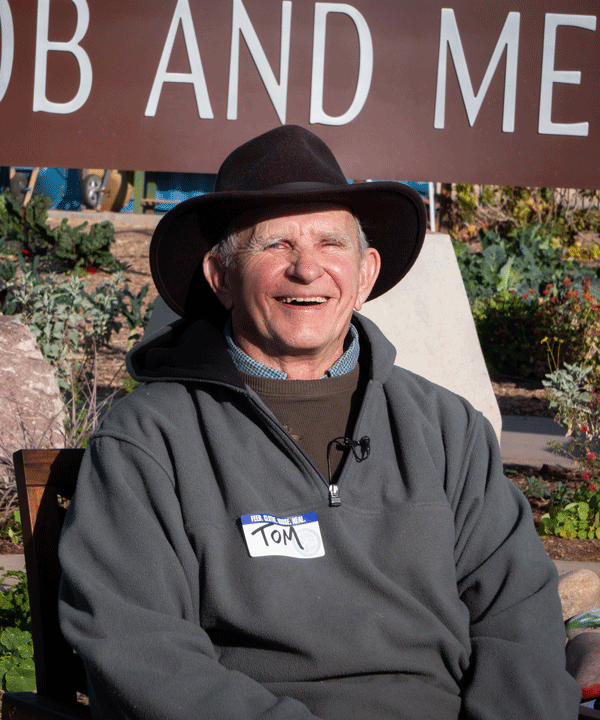 Are you or someone you know ready to feed your spirit through service? Volunteer today. You can do so from home, outside on the farm or in other SVdP service areas with socially distanced opportunities.
Read the first two parts of the Mind.Body.Spirit wellness blog series in these posts about "the Mind" and "the Body."