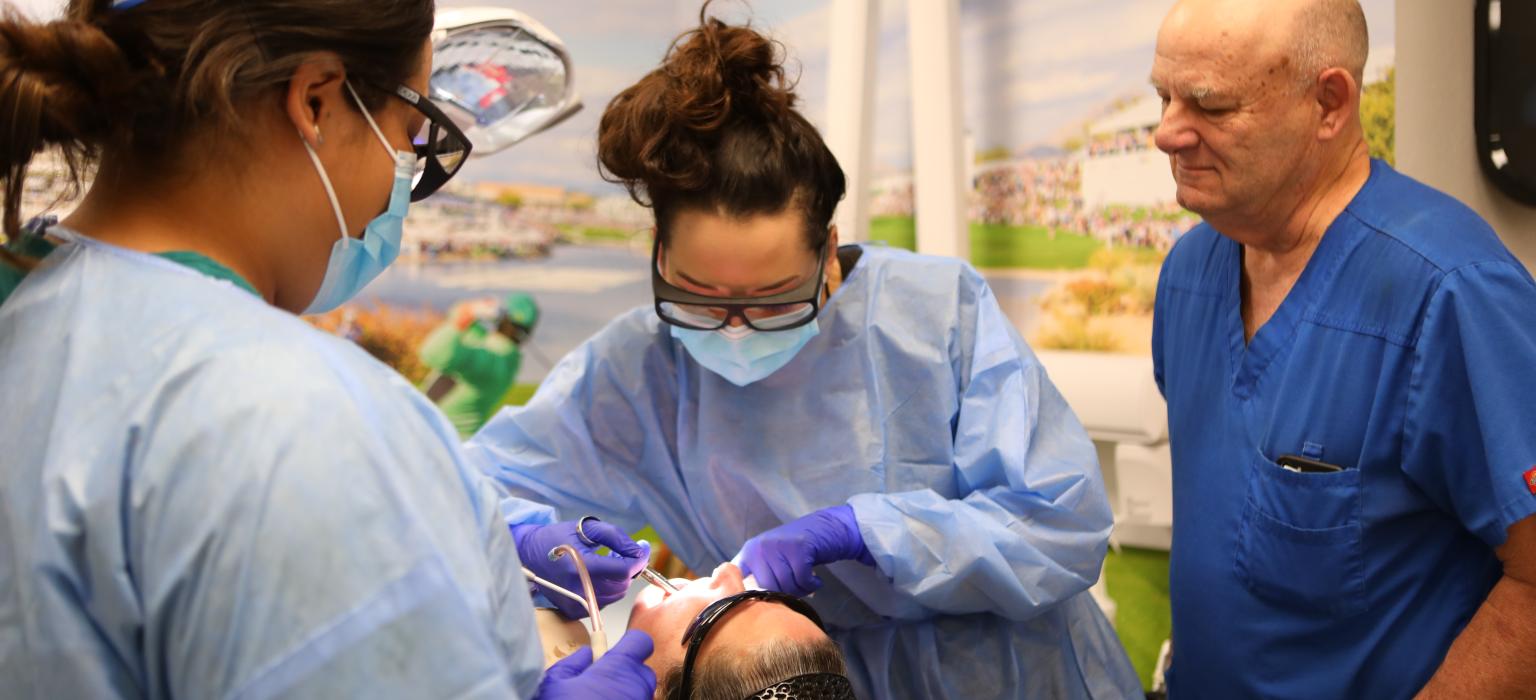 Program
Delta Dental of Arizona Oral Health Center
St. Vincent de Paul's charity dental clinic provides treatment and preventive care to children and adults without insurance and inspires thousands to healthier hygiene every year.
The Society of Kids' Smiles Protected
Untreated dental problems can have devastating effects on one's overall health and self-esteem. For those without insurance, dental care is virtually impossible to access without high out-of-pocket costs. That's why the Delta Dental of Arizona Oral Health Clinic not only provides preventative and emergency dental care to adults, it proactively works with local schools to identify children with serious dental needs. For these kids, we provide comprehensive treatment plans that include teaching them oral hygiene skills to last a lifetime. Thanks to the help of volunteer dentists and dental professionals, we're able to provide a full range of services for pediatric patients and adults, ranging from cleanings and fillings to extractions and denture fittings.
By the numbers
dental visits provided annually
zip codes where patients come from around Arizona
What we do
While the American Academy of Pediatric Dentistry recommends that a child goes to see the dentist by age 1, many of our young patients come to us for their first dentist appointment due to pain and major dental issues that have been ignored due to a lack of access to dental care. That's why we work hard to establish a positive relationship with our young patients and proactively work with local schools programs and school nurses to be a resource to those in need.
For patients without insurance, dental care can be expensive and nearly impossible to access. Not only is oral health important to overall physical health, many of our patients with the most severe cases find that a healthy smile can be life-changing, allowing them to live and achieve their goals to the fullest potential.
Working with local schools like Phoenix College, Rio Salado, AT Still University and Midwestern University, we provide valuable service and educational opportunities for dental students. Through our partnership with NYU Langone's AEGD Program, dental residents are placed in our clinic annually to complete their studies while serving those who otherwise would go without dental care.
As a low-cost and free clinic for patients without insurance, we operate solely through the generosity and support of our community. We are always in need of volunteer dentists and specialists. We require dental volunteers to have an active Arizona license and malpractice policy. For more information, please contact Dental Administrator Nellie Barreras at NBarreras@svdpaz.org
Join the Coffee Crusade
Support SVdP's Dental Clinic with a monthly gift
THE SOCIETY STARTS WITH YOU
It takes a Society of One Million committed people like you to serve everyone who needs help
Locations
Learn more about our dental clinic location in Phoenix
Volunteer Opportunities
At SVdP, 95% of our workforce are volunteers-like YOU. We believe that we can accomplish more when we all do it together. Thank you for sharing your skills, time, and heart with us. Thank you for being part of the family.
Dental Clinic
Our free dental clinic provides treatment and preventative care to children and adults without insurance and inspires thousands to healthier dental hygiene every year.