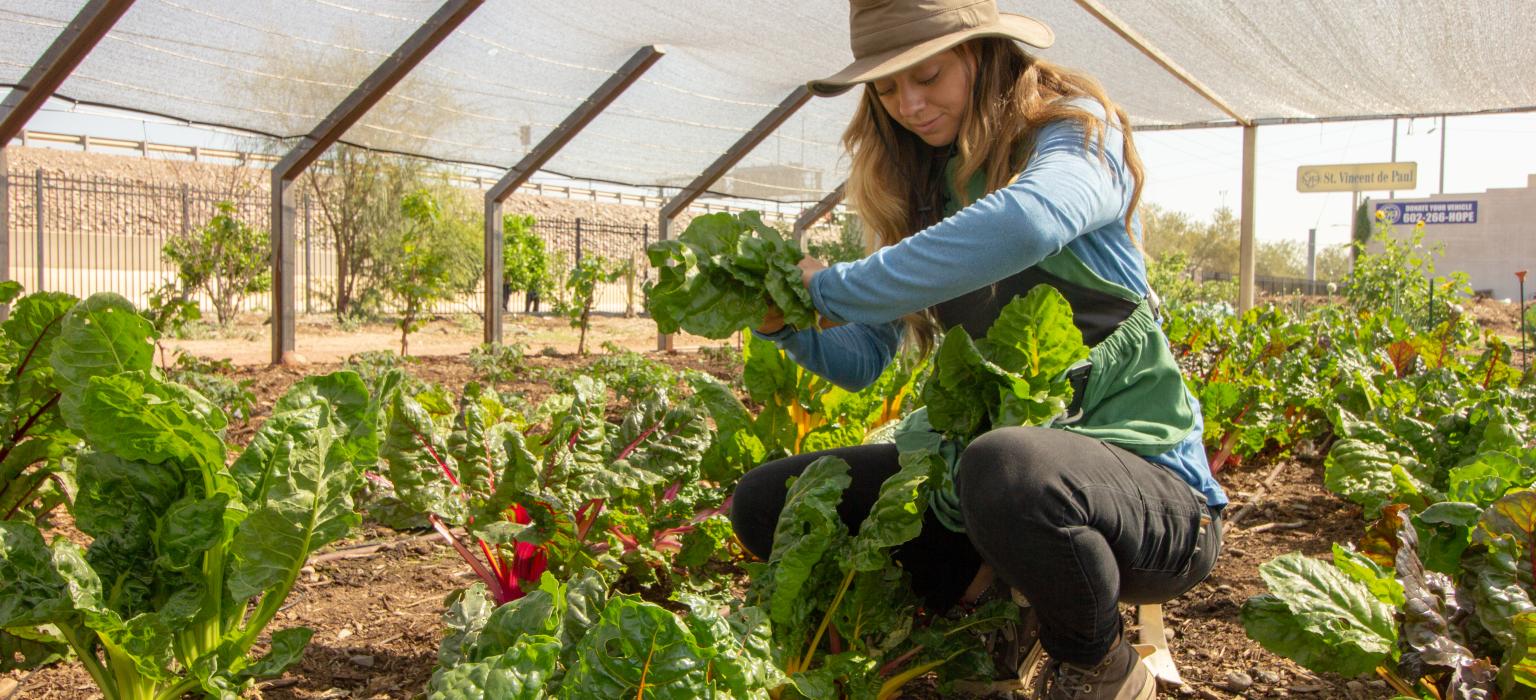 Using permaculture and chemical-free methods, we grow and harvest hundreds of pounds of fresh produce every week. These fruits and vegetables are used in our kitchen and added to food boxes for families.
The Society of Growing Food and Harvesting Wellness
The Urban Farm Program began in 2012 at St. Vincent de Paul with the installation of our first urban farm at the Human Services Campus in downtown Phoenix. Since then, the program has grown to encompass three urban farms throughout the Valley. Each farm is tied to one of our five dining rooms in Maricopa County. The farms support our dining rooms and central kitchen that feed thousands of food-insecure, low-income, and homeless populations each day with fresh produce.
The farms provide volunteer opportunities and access to educational enrichment for the community. Each farm also incorporates spaces where the community can relax, reflect, and take in the healing energy of the environment. Whether you are looking for a place to serve, learn or engage through internships our Urban Farms are the place for you.
The Urban Farm's Impact
pounds of produce harvested
hours of volunteer service
Services and Resources
The St. Vincent de Paul Urban Farms not only provide an active volunteer experience, but rich educational programming for community members as well. We offer various programs and guides to showcase the importance of growing food for sustainability and empowering community members to discover and participate in local food systems.
Programs for Guests
Free painting classes
Chakra balancing meditation
Yoga
Meditation and wellness class
Chair yoga for elderly guests
Classes for All
Permaculture practices
The Master Gardener
Garden in a Box
Seed starter classes
Basic Beekeeping
Gardner Classes
Classes for Kids
The Junior Gardener
Chicken care for children
Dream Center Garden Club
The Full Guide: A Guide to Social Impact Through Urban Farming
Learn more about the social impact of urban farming, how to get started creating an urban farm, and the key factors in growing a community and sustaining an urban farm.
The Full Guide: SVdP Urban Farms Best Practices Manual
A general reference guide for urban farmers in the greater Phoenix area. Includes daily operations, which plants to grow, soil science, fertilizer, compost, irrigation, ecological farming practices and much more.
There is no "off season" for our neighbors in need.
Your monthly gift ensures that nobody who comes to us for help will be turned away.
THE SOCIETY STARTS WITH YOU
It takes a Society of One Million committed people like you to serve everyone who needs help.
Locations
Learn more about our urban farm locations around the Valley:
Volunteer Opportunities
At SVdP, 95% of our workforce are volunteers-like YOU. We believe that we can accomplish more when we all do it together. Thank you for sharing your skills, time, and heart with us. Thank you for being part of the family.
Urban Farms
At our three urban farms, we produce nutritionally dense food for those who do not have access to proper vitamins and nutrients.