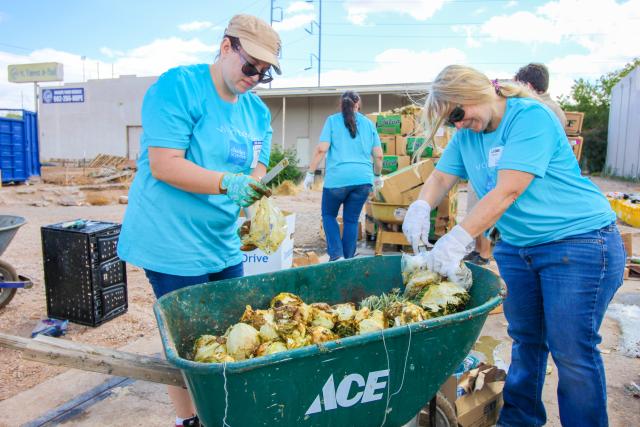 Volunteering as a group is a wonderful opportunity to build strong teamwork and grow as a team. Working together to achieve a shared goal provides your group a sense of accomplishment while strengthening the community as a whole.
We believe that we can accomplish more when we all do it together. When you volunteer as a group, you're all contributing your time, skills, and heart that allow our services to help many in the community. At SVdP, 95% of our workforce are volunteers, so we mean it when we say we can't do it without you!
Groups of all ages, sizes, and backgrounds can volunteer with us including schools, corporate groups, clubs, churches, Girl Scouts, Boy Scouts, colleges, and many more! You can sign up to volunteer for nearly any opportunity as a group, but listed below are a few of the areas especially well suited for group volunteering.
Highlighted volunteer opportunities for groups
All volunteer opportunities
In addition to the highlighted areas above, but we have a variety of other opportunities to choose from.
How do I schedule a volunteer opportunity?
Signing up to volunteer is easy! Click the button to register, complete the volunteer interest form and one of our volunteer schedulers will reach out within two business days to coordinate a date and time. They'll also share parking instructions, clothing suggestions and other details for your volunteer experience!
If you have a group of over 15 people our scheduling team will reach out to help set up the experience that will best suit you and your group.
Fill out the volunteer interest form (this is the first step)
Scheduling team will reach out
Communicate with team to find a day and time that works for you
Schedule and confirm your shift
Come in and enjoy your experience!
Ready to volunteer?
Complete the volunteer interest form, and we'll contact you to match you with a great volunteer opportunity.