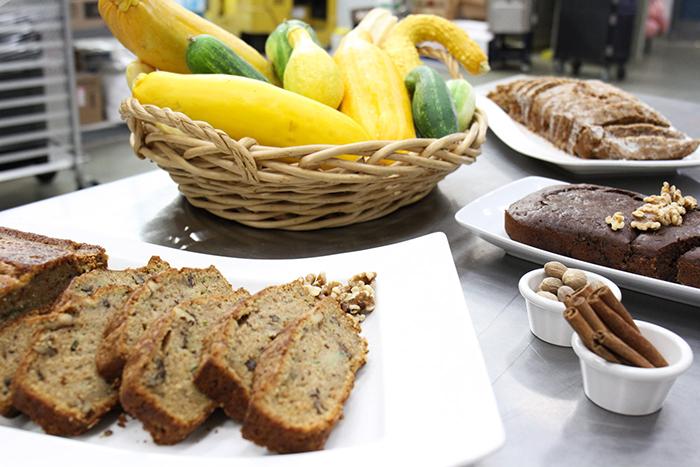 Farm to Fork: Baking With Farm-Fresh Zucchini
Learn how to make simple, delicious zucchini bread
In this month's Farm to Fork series, we're using vegetables to create a sweet treat for the summer! St. Vincent de Paul baker Theresa Alejo, and extern Catherine Ivy, worked together to bake delicious zucchini bread, using zucchini fresh from our Urban Farm.

If you don't have a garden, you can purchase zucchini from most grocery stores throughout the summer. In addition to the recipe, you'll also learn some health benefits of eating this summer vegetable, with information provided by our Family Wellness Program.

Incorporating more vegetables in our foods gives us more nutrients. In this case, zucchini is high in vitamin C, contains potassium and folate, is rich in fiber, and is a low-calorie food!


Zucchini Bread

Ingredients:

3 cups of all-purpose flour
1 teaspoon of salt
1 teaspoon of baking soda
1 teaspoon of baking powder
1 teaspoon of ground ginger
1 teaspoon of ground cloves
3 teaspoons of ground cinnamon
3 eggs
1 cup of vegetable oil
2 1/4 cups of white sugar
2 teaspoons of vanilla extract
2 cups of grated zucchini
1 cup of chopped, toasted walnuts (optional)

Preparation:

Grease and flour two 8x4 inch pans. Preheat the over to 325 degrees F (165 degrees C). Sift the flour, salt, baking powder, soda, cinnamon, cloves and ginger together in a bowl.

Beat the eggs, oil, vanilla, and sugar together in a large bowl. Add sifted ingredients to the creamed mixture and beat well. Stir in zucchini and nuts until well combined. Pour the batter into the prepared pans.

Bake for 40 to 60 minutes, or until the tester inserted in the center comes out clean. Cool the bread in the pan on a rack for 20 minutes. Remove the bread from the pan and cool completely. Enjoy!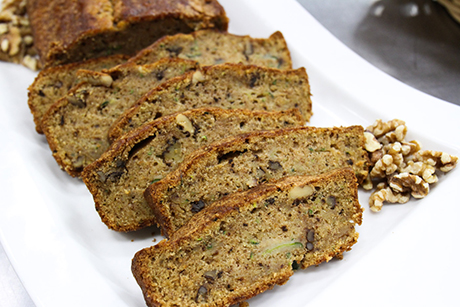 One unique quality about our Family Wellness Program is that it is a culturally responsive program. Our health educators teach bilingual classes to reach more in our community. Below is the recipe in Spanish!
Pan de Calabacitas

Ingredientes:

3 tazas de harina para todo use
1 cucharadita de sal
1 cucharadita de bicarbonato de sodio
1 cucharadita de levadura en polvo
1 cucharadita de jengibre molido
1 cucharadita de clavo molido
3 cucharaditas de canela molida
3 huevos
1 taza de aceite vegetal
2 1/4 de azúcar blanca
2 cucharaditas de extracto de vainilla
2 tazas de calabacitas ralladas
1 taza de nueces tostadas picadas

Engrasa y enharina dos moldes de 8x4 pulgadas. Precalienta el horno a 325 grados F (165 grados C). Tamiza la harina, sal, levadura, bicarbonato, canela, el clavo y el jengibre en tazón.
Bate los huevos, el aceite, la vainilla, y el azúcar en recipiente grande. Añade los ingredientes tamizados a la mezcla cremosa y bátelos bien. Mezcla las calabacitas y nueces hasta que estén bien mezclados. Vierte la mezcla en los moldes preparados.

Hornea durante 40 a 60 minutos, o hasta que un probador insertado en el centro salga limpio. Déjalo enfriar en el molde sobre una rejilla durante 20 minutos. Retira el pan del molde y déjalo enfriar por completo.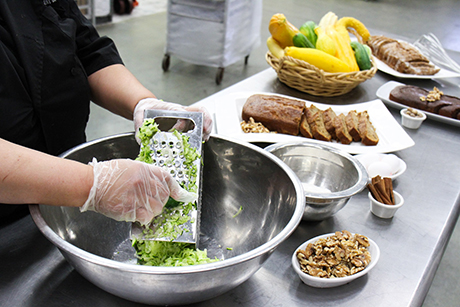 We'd love to see the dishes you prepare from our Farm to Fork series! Tag us on Facebook, Twitter or Instagram with your posts using #SVdPFarmtoFork.
In this month's Farm to Fork series, learn how to make a healthy, spring-season recipe -- kale salad. We harvested fresh kale and other ingredients from our Urban Farm to put together this refreshing salad. If you don't have a garden, you can purchase kale from most grocery stores. In addition to the recipe, you'll also learn the health benefits of eating kale, with information provided by our Family Wellness program.

Kale is a leafy green that's in the same family as cabbage. It is known to many as a 'super food,' as it is packed with vitamins and nutrients. This leafy vegetable is a good source of fiber, vitamins K and C, calcium and potassium, to name a few.