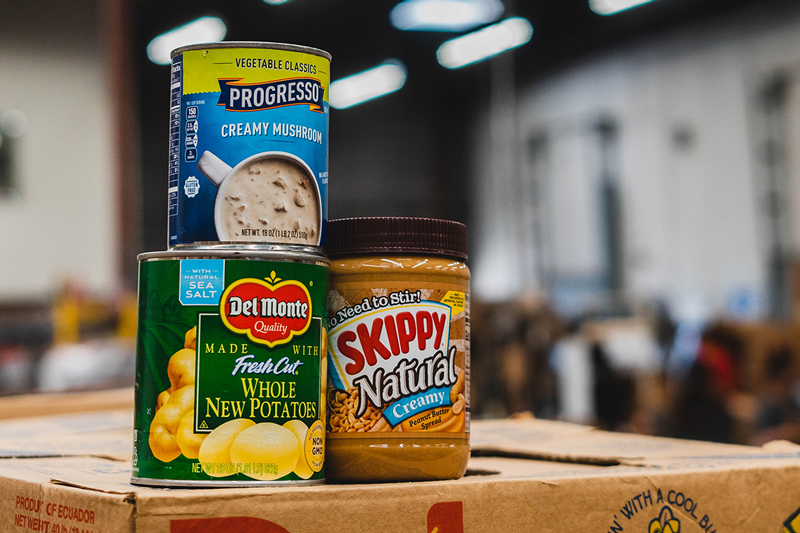 #HealthyGiving: Donate canned goods, not homemade pies
Your holiday excess nonperishables and willingness to serve helps feed people
With the holiday season upon us, a charitable spirit is as well. The holidays are a time when people are reminded to give, and one of the best ways to give is to donate food — specifically nonperishable food given to trusted nonprofits with food service programs, like St. Vincent de Paul.
"Here at SVdP, we like to think of every day as Christmas, and open our doors every day of the year to give to those in need," said SVdP Director of Food Services Danielle McMahon. "But we also know how charitable people are during the holidays and want to be sure they know the most productive ways to give this season."
That's why in this installment of SVdP's #HealthyGiving blog series, Danielle explains why nonperishable food and partnering with local nonprofits to help feed people is the best way to give with the most impact.
Donating half-eaten turkey leftovers or sides dishes in Ziploc containers, while good-intentioned, can't be served because of strict food handling protocols. Unfortunately, SVdP can't accept anything that's homemade, opened or not pre-packaged for sale.
That's why your holiday excess canned good donations are top of SVdP's wish list. Canned items like yams, potatoes, green beans and corn make great donations in addition to protein-rich foods like canned tuna, canned chicken and peanut butter. Boxed grains and snacks help round out SVdP food boxes for families too.
Simply drop off food donations at SVdP's main campus at 420 W. Watkins Rd. or host a food drive with friends, family or co-workers and have your drive donations picked up. All food donation items are processed and assessed for quality control through SVdP's Food Reclamation Center, which sorts and organizes the items into food boxes to be transported to our more than 80 neighborhood food pantries across northern and central Arizona. From there, the volunteers deliver the food boxes during home visits.
Danielle said that donating nonperishables makes an excellent alternative to street feeding as well.
She explained that partnering with a trusted community food service ensures safe food handling, but more importantly it connects people to community agencies that offer them a way off the street. In other words, street giving could be a missed opportunity to connect people to homelessness prevention services that might help them permanently escape homelessness.
"If you want to make a lasting impact, collaborate with organizations that are experts in their field," Danielle said. "This way, you are not duplicating resources that nonprofits are likely already providing."
She understands that even street giving is rooted in a person's caring nature and desire to help better someone's living situation, but she hopes that people truly wanting to give back will consider making a bigger impact through partnering with SVdP, especially with regards to food.
And for those who still seeking an in-person experience, Danielle invites them to come volunteer in any of SVdP's food service opportunities.
"Volunteers can come into our kitchen and help prep the 2500 meals served every day in our five dining rooms, harvest produce in our urban farms, or be a smiling face on our hot line and serve meals to those that come through our doors," McMahon said.
She also stressed that while donations and volunteers are always needed during the holiday season, SVdP needs that same level of help all year long because community need is always present – not just during Thanksgiving and Christmas.
Find out other ways to practice #HealthyGiving this season. Read the SVdP #HealthyGiving blog series, which covers how to deliver Christmas to a family in need and the better alternative to street feeding.