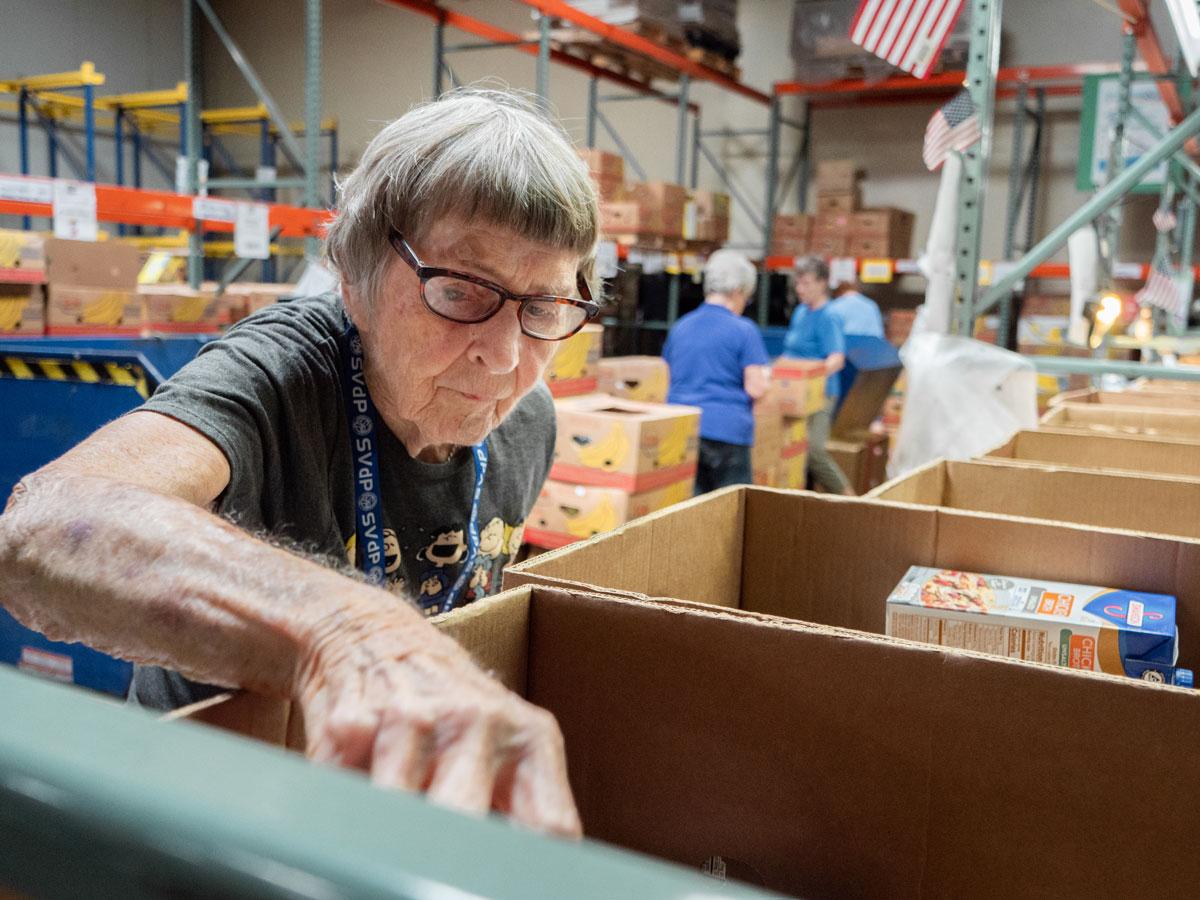 Phyllis O'Toole paved way for Vincentian women, still serves at 90
She's volunteered 40+ years and spends every Friday sorting donations in Food Reclamation
Until a few months ago, Phyllis O'Toole insisted on loading food boxes into her vehicle herself to transport to the St. Vincent de Paul food pantry at Most Holy Trinity Church. It's not that other volunteers or staff didn't offer to help. It's that Phyllis, even at 90, has some grit.
Phyllis has been a Vincentian, a parish-based volunteer, for SVdP for 42 years. Since the main campus first opened in 1989, she's helped sort goods and other food and hygiene item donations in the food reclamation warehouse. You will find her there every Friday.
"I like doing this, but I don't lift as well as I did," says Phyllis, who won SVdP's 2013 Glennie Scott Award for dedicated volunteerism. "And I like the people. They're good people here."
Helping weekly in the warehouse is in addition to the help she still provides at Most Holy Trinity's food pantry, a SVdP satellite location where she originally began her SVdP volunteer career in 1977.
"I remember the church gave us an office and a telephone, and we staffed it from 9-4, two people a day, just answering calls," says Phyllis, who was one of the original two women working the office. She and her colleague began documenting the calls for home visits made by only Vincentian men at the time.
"It was the first time they had records of the calls," she says. "We started keeping cards on people so we knew what was going on."
Those early documentation efforts got Phyllis an invitation to a Vincentian meeting. Two years later, she became a Vincentian and blazed a trail for women in the society. Phyllis was the first woman to be elected vice president of her parish Vincentian group and later president for two terms in the '80s. During that time, she encouraged Vincentian women to make home visits, and she insisted on delivering food boxes with her colleagues.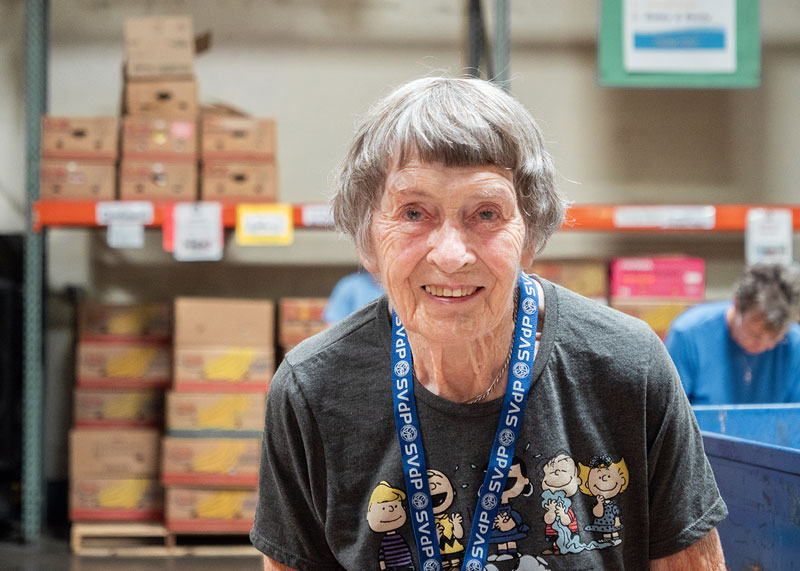 She also attended district meetings with some of SVdP Phoenix's best, including Dan Sullivan, Dan and Peggy O'Meara, Steve Jenkins, Matt and Glennie Scott, and others.
"We were just doing whatever good we could anyway we could," Phyllis remembers of the group.
Helping where help is needed has been a way of life for Phyllis. Growing up as an only child, she got involved in Girl Scouts and started helping neighbors in her hometown of Dubuque, Iowa. She went on to work five years as a nurse in her local hospital's labor and delivery room. During that time, she met her husband, and they started their family. They later moved to Phoenix in 1965 for business.
In the Valley, her volunteer career took off. She volunteered with 4-H, the Mineralogical Society of Arizona and served as a chairperson for the Boy Scouts of America. Phyllis has also volunteered for more than 25 years in the Maricopa County Elections Department and to this day she brings a box of baby essentials every week to Life Choices.
Phyllis doesn't intend to stop her volunteering activities anytime soon either. Born in 1929, she celebrated her 90th birthday on April 6. Phyllis marked the milestone with family and friends in the Hall of Banners during lunch after a volunteer shift at SVdP.
When asked how she felt, she said, "I feel 90. I felt my best at 50, but I'm not ready to quit. You just keep going one day at time."

This story was originally published in the winter 2019 issue of Vincentian Connection magazine.