Remote video URL
Helping families furnish their fresh start
SVdP's Bringing Hope Home program helps make a new house feel like a home.
Video story by J2 Media
Article by Sarah Farrell
Starting over can be hard for a family experiencing homelessness. Living in an extended stay hotel or even their car, they can't keep a lot of belongings with them.
Finding stable, affordable housing is just the first step. Sometimes furnishing those basic supplies — like a bed or a kitchen table — can be too expensive for a tight budget.
That's where St. Vincent de Paul's Bringing Hope Home program steps in to help families, seniors and individuals in need make a new house feel like a home.
"If we want them to continue ending their homelessness, and not go back that way [to living on the streets], then let's try to make it as comfortable as possible and not seem so scary," said Irma Leyendecker, who is the SVdP director of mission advancement and coordinates leading the Bringing Hope Home program with SVdP Director of Retail Operations Mike McClanahan.
A few months ago, Larry, Diamond and their children found themselves experiencing homelessness. Larry's hours were drastically cut at his construction job due to the pandemic, and with a severely limited income the family moved in with Larry's brother. When they couldn't stay there any longer, they started staying at a motel. Unable to continue paying for the motel, Larry reached out for help and found SVdP.
"You think you have stuff figured out you know," Larry said, "and then sometimes life just throws you a curveball."
He was put in touch with the Resource Center and Krashanda Cleveland, manager of Social Work Services. SVdP was able to help the family with motel fees. And once they found a place to live, SVdP helped with move-in costs and additional rent payments as well, Krashanda said.
But regaining that stability in their lives was just the first step. The family had no furniture, kitchenware, or even linens to furnish their new home. That's when Krashanda and the Social Work Services program made the necessary referral for them to be considered for SVdP's Bringing Hope Home program. Whenever a new family comes to Irma through referral, she calls them and talks with them — sometimes for over an hour — about their needs for their new home.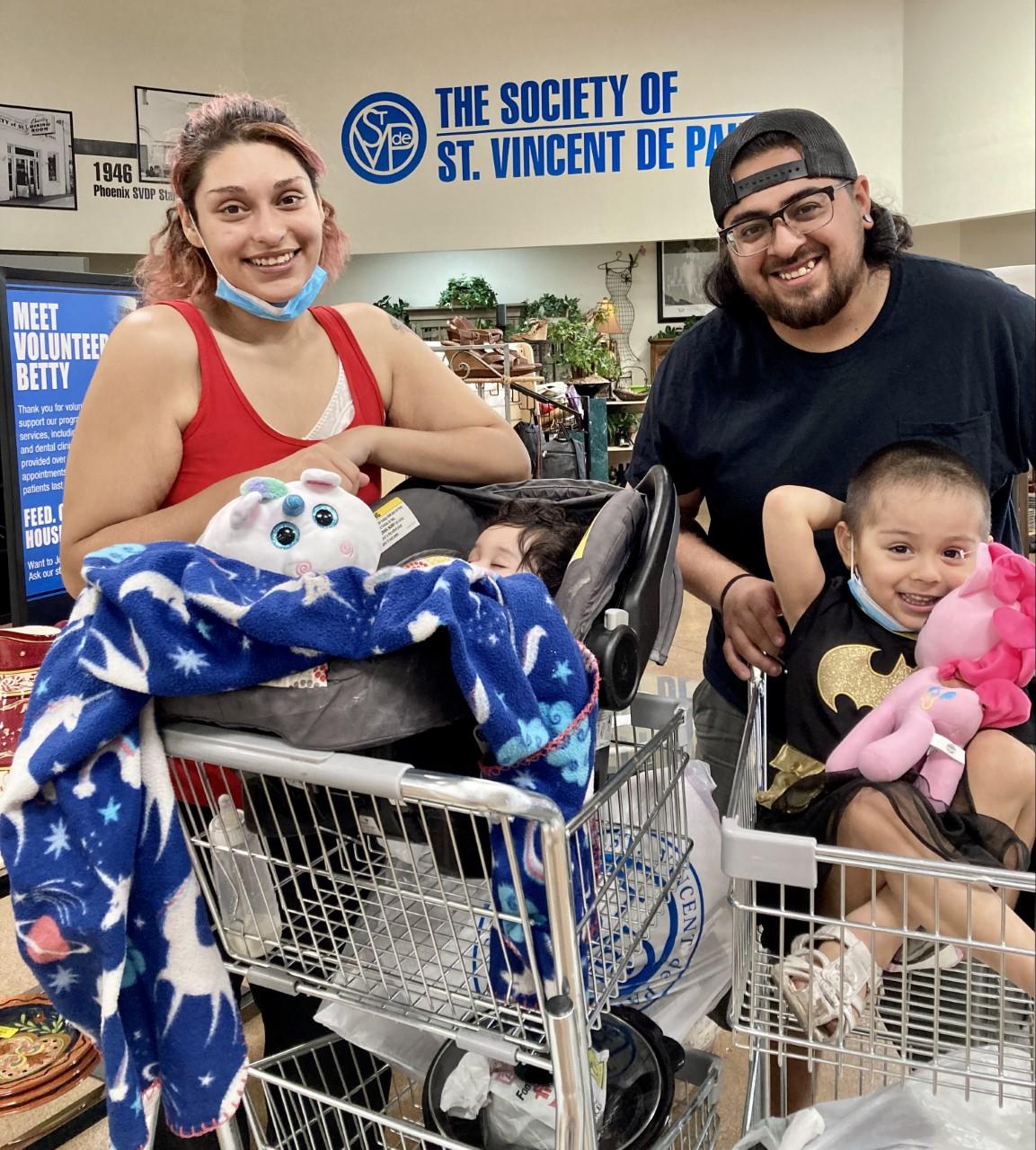 "We sort of have a visual walkthrough of their house," Irma said. "'Like, okay what could you imagine here? Okay, we need a queen size bed. Or I have two kids and they could use bunk beds or two twin size beds."
She uses that to determine a dollar amount for what they might spend at a SVdP thrift store and organizes care cards for the families. On average, it's about $1,500 a family, she said.
The funding for this program comes from another SVdP program, Angels on Call. When help is needed, multiple donors from around the Valley will come together to sponsor a family like Larry and Diamond.
Then Irma and Mike pick a day to go shopping with the family at the Hope Chest Thrift Store. Irma gives them the cards and lets them have that shopping experience with their family.
"That's why I like the program so much," Irma said, "because instead of us just saying, 'Here's a couch, here's a table, here's some chairs, you should like it because it's been given to you for free.' Instead, it's part of that dignity and part of that respect in the culture we have, letting them pick out their own stuff. And really being excited about having it delivered to their house and setting up their house."
Usually within the same week they go shopping, the SVdP staff loads all the purchased items up into a delivery truck and helps the family move into their new apartment.
One of the most important parts of the program for families is that delivery, Irma said. They may need a mattress, or couch, or stove, and they don't have a way to get it back to their house. That's where the SVdP transportation team steps in to make the deliveries directly to families.
"I feel very grateful," Larry said of the whole process. "It lets you realize what you really have, and what you really don't have. Who's there for you, and who is not."
Larry especially felt SVdP's love and support when, come move-in day, he found out he'd been laid off by the construction company that had already cut back his hours. Luckily, he was able to apply for and got a position at the SVdP Sunnyslope Thrift Store.
"I can't thank them [SVdP] enough," he said. "My kids have a place to stay. I have a way to sustain their living."
This past summer, the Bringing Hope Home program formalized the longstanding tradition of SVdP helping families furnish their new homes through its thrift stores. Because of the upfront large expense, the program aims to help one family a month, although sometimes sees its way to helping more. Already the Bringing Hope Home team has helped over eight families and individuals furnish their new homes this year.
"I want to make a difference," Mike said, "and that's the wonderful thing about working for St. Vincent de Paul. I can move the needle in a positive way in somebody's life. I don't know these folks, but they needed our help."
Do you want to help a family as they Bring Hope Home?
You can give hope to families ending their homelessness.